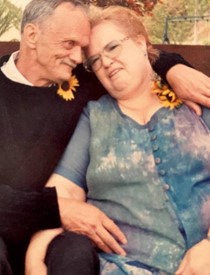 Patricia A. Wells
9/12/1948 — 12/7/2021
Our mom, Patricia Ann (Schaeffer) Wells (known to family and friends as Pat or Patsy) was born Sept. 12, 1948, in Moscow to Albert Joseph Schaeffer and Cora Elizabeth (Giles) Schaeffer, the third of eight children. She passed away Tuesday, Dec. 7, 2021, because of complications with diabetes resulting in kidney failure.
She spent her childhood with her five sisters and one brother on the family farm in Ferdinand where she helped her mother cook for the farm hands, helped her father with the farm chores, and helped tend to her younger siblings. When her youngest sister, Janeil, was born, her mother was ill for a while after the birth, so Mom mothered her youngest sister and always had a very close bond with her. She graduated from Prairie High School in Cottonwood in 1966 along with her best friend, Sheryl (Currin) Slichter. Her favorite subject was English, as she loved creative writing. She would have made an excellent novelist.
She married Robert "Bob" Joseph Wells on Jan. 26, 1968. They welcomed three children together: Michael "Mike," born in Cottonwood in August 1968, Sheila, born in Crescent City, Calif., in October 1969, and Jeffrey "Jeff," born in November 1970.
The family moved around Idaho, at one point clear to Tekamah, Neb., when the children were 2, 3 and 4 years old, only to wind up back in Idaho. They settled in Emmett, Idaho, where the kids started elementary school, then moved to Lewiston in 1981 to be closer to Mom's side of the family. Mom found a job as a unit secretary for St. Joseph Regional Medical Center in 1982, where she worked until medical reasons forced her retirement in 2010. She really enjoyed her job, but after answering phones for 26 years, she never found the desire to talk on it after her retirement.
In May 2012, she suffered a stroke that took out her short-term memory. It was strange what she could remember — major events with her family and yet you could have a 20-minute conversation with her and repeat it over and over again like it was the first time you had it. However, talk about her childhood or us kids or the grandkids, and her memory was long and fruitful.
She was home with Dad until his passing July 27, 2017, then Jeff stayed with her or she with him until June 2019 when it was decided that she needed more care and the family elected to place her at Royal Plaza, where she resided until her death.
She is survived by sisters Mary Lorentz, of Cottonwood, Jańice (Brad) Cash, of Grangeville, Mona DeBusk, of Spokane, Pam (Mike) Baxter, of Meridian, Idaho, Janeil (Lyle) Leslie, of Clarkston, and grandson Zane, son Mike Wells, of Pullman, daughter Sheila (Bill) Long, of Kodiak, Alaska, grandson Sawyer Edmison, of Lewiston, with great-granddaughter, Alandrea, granddaughter Jasmine (Chris) Sams, of Kooskia, with great-grandsons Robbie and Rocky, son Jeff Wells (Lynette), grandson Kyle (Donna) Wells and great-grandsons Kyren and Kysin, granddaughter Jessica (Jonny) Kulczyk with great-granddaughters JauzLynn and Brixly and great-grandsons DJ, Zaiven, and Hayzen, grandson Mikhail (Breanna) Babino and great-granddaughters Bexleigh and Candi as well as great-grandsons Pheonix and Azirel also granddaughters Rebecca Wells, of California, Alissa Wells, of Pullman, and Keely Brighton-Wells, of California.
She will be welcomed in heaven by her husband Robert Wells (2017), her parents, Albert (1982) and Cora (1990) Schaeffer, her brothers Richard Schaeffer (2001) and David Schaeffer (1964), her brothers-in-law Gary Stewart (1997), Ronnie DeBusk, Willard Lorentz, and several family and friends who have gone before her.
We will miss you, Mom, for the rest of our lives. Gone, but never forgotten.
She has been cremated and there will be a celebration of life at St. Stanislaus Church next to St .Joseph Regional Medical Center for both her and Robert "Bob," Dad, at 11 a.m. today, (her father's birthday was Dec. 16, 1914. He elected to not have a service until she could join him in heaven. Please send a message on Facebook to Sheila for more details.
Service Information
Date & Time

Thursday, December 16, 11:00 AM

Location

St. Stanislaus Church
633 5th Avenue
Lewiston, Idaho 83501

Get Directions
Offer Condolences