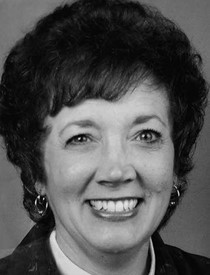 Norma Everett
10/11/1947 — 3/27/2018
A lifelong resident of the Lewiston-Clarkston Valley, loyal friend, successful businesswoman and beloved Mom and Grandma, Norma Lynne Weaver-Everett went to Heaven on Tuesday, March 27, 2018, due to complications from dementia at just 70 years young.
Norma was born on Oct. 11, 1947, in California to Lloyd and Jeanette Weaver. She spent her younger years in Senora, Calif.
In 1958, her family moved to Lewiston where she attended Jenifer Junior High School and Lewiston Senior High School, graduating in 1965.
As a freshman at Jenifer, she met Mike Everett. They dated through their high school years and then were married on April 8, 1964. They had four terrific children: Kelly, Kevin, Casey and Jason.
Norma had a love of the outdoors and spent many weekends camping and fishing with her family and riding on the back of her friend Wes Arnot's Harley. She also enjoyed having family gatherings - especially at Christmas.
In 1973, she went to work part-time for the Lewiston Morning Tribune.
In 1977, after they realized the many gifts and talents that she brought to the table, she was offered a full-time position and quickly became one of their top salespeople. She loved her job, her co-workers, and most of all, her clients.
Although Norma and Mike divorced in April of 1988, they remained friends until her passing.
Norma continued her employment with the Tribune until her retirement in 2012.
Her partner of 10 years, Darrell Cameron, and Norma spent many long weekends traveling and playing golf. Although she "chunked a few shots" she loved the game. After Darrell passed, her life revolved around her children, grandchildren and close friends, notably Diane Holzer and Linda Aasen who helped look after her until the very end. Her friend, Diane, was always present and the family doesn't remember a wedding, graduation or major family function where she wasn't there helping.
Norma also loved her four-legged furry family members, her grandchildren and great grandchildren. She was an avid dancer and loved kicking up the dance floor with her friends and family ... especially Kevin. She could really shake her booty on the dance floor.
Norma is survived by her children, Kelly Everett-Brooks, Kevin Everett, Casey Everett, Jason Everett and Cory Cameron; and a son-in-law Jeff Brooks; and daughters-in-law Kristy Everett and Tami Everett. She also is survived by 12 grandchildren and six great-grandchildren. She was preceded in death by her parents, Lloyd and Jeanette Weaver; and brother Neil Weaver.
A celebration of life will be held at 5:30 p.m. on Thursday at the Quality Inn & Suites, 700 Port Drive, Clarkston. In lieu of gifts, the family suggests that donations be made to the LC Valley Humane Society.
We would like to offer a special "Thank You" to the nurses and CNAs from Prestige Care in Clarkston. They were all so loving and took special care of her like she was family.
Norma - Mom, Grandma and friend - will be greatly and dearly missed, but we know that she is dancing and fishing with her family and friends in Heaven.
Service Information
Date & Time

Thursday, April 5, 5:30 PM

Location

Quality Inn
700 Port Drive
Clarkston, Washington 99403

Get Directions
Condolences
ALTA CARTER
I was deeply saddened to learn of your Mother's passing, I enjoyed getting to know her through Orchards Ele, when you kids attended school there, and I was teaching there. Whenever we would meet in the community, we would stop a minute and catch up. She was always so nice. My condolences to the family. Alta Carter
Thursday, April 12, 2018 3:50 PM
Offer Condolences