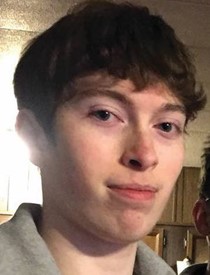 Noah McCarley
5/27/1997 — 12/22/2017
Noah Steven Earl McCarley left us Friday, Dec. 22, 2017, for an eternal life with the Lord.
He was born May 27, 1997, in Lewiston, the son of Kat Gunning-McCarley and Blair Murphy Paffile. Noah was raised and attended schools in Lewiston. He worked for Service Master until recently, when he joined forces with his brother at Coca-Cola. He was so proud of this job, where he gained new self-purpose and attitude.
Noah had a heart of gold, which showed in his love of animals. He was often described by others as respectful, gentle, hard-working and full of joy. He enjoyed camping, fishing, hunting, riding all-terrain vehicles and the challenge of building anything he could with his hands.
His abundant creativity was apparent in everything his hands created, as when his father taught him to weld only to return later and discover a 5-foot-tall scrap iron statue closely resembling a metal robot. Noah was compassionate and kind; he never talked about others and he gave so much, never expecting anything in return.
Noah is survived by his parents, Blair Murphy Paffile and Kat Gunning-McCarley; grandparents George and Joan McCarley, and "Grammy" Coralee Paffile; his brother, Jonah Ian McCarley; and sister Celeste Cori Marie Paffile.
Services will be held at 2 p.m. Tuesday at Malcolm's Brower-Wann Funeral Home, immediately followed by a procession to Lewis-Clark Memorial Gardens Cemetery.
Offer Condolences