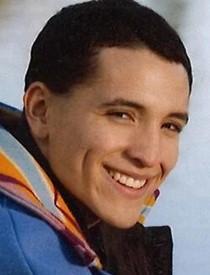 Nigele Williamson
3/12/1992 — 9/2/2023
It is with profound sadness that we announce the passing of Nigele Thomas Williamson, known to many as "Nige Hox." Born on March 12, 1992, Nigele left us on Sept. 2, 2023, at the age of 31. He called Lapwai, Idaho home.
From his early days, Nigele's was often found fishing and hunting, singing with Lightning Creek, and enjoying his first kill with his Uncle Lil Tom. Singing was a part of him, evident even when he was still in pampers. Countless moments were spent with his beloved Papa Skip, embracing traditions by going to sweat and digging kouskous. Before the school bell rang, Nigele would always be at Gramma Lucille's house, warming up with a bowl of oatmeal "mush."
Nigele was a force on the sports fields of Lapwai High School, excelling in football, basketball and baseball. A true Wildcat, he became the salutatorian of his graduating class in 2010. He pursued higher education at Washington State University and graduated from Lewis-Clark State College, earning a bachelor's degree in Business Administration in 2018, never letting his GPA fall below a remarkable 3.7.
Starting his professional journey in fast food, Nigele soon became a familiar face behind the bar at the Clearwater River Casino. But his true calling beckoned after graduation when he began his illustrious career in 2012 working from security, bartender and moving into the Business Operations Planner at the Nez Perce Tribal Enterprises since 2012. Always striving for excellence, he played a pivotal role in bringing back wealth to our people and ardently worked towards the upliftment of the Nez Perce community.
Outside work, Nigele was a man of myriad passions. Whether it was cheering for the Minnesota Vikings and Twins, diving deep into video games or quoting his favorite movie lines, he embraced life with zest. His competitive streak shone the brightest during family game nights, always leaving everyone in awe of his trivia knowledge.
Spiritually, Nigele was a Nez Perce Dreamer, often seeking solace and guidance by going to sweat with his Papa Skip.
Left to cherish his memory are his wife, Jessica Fernandez, his daughter Amera Jordan Michelle Williamson and son, Malcolm Anthony Williamson. He is also survived by his siblings: Brooklyn Williamson, Courtney Dozier, Blue Guang, LaKisha Williamson and Kayden Williamson; and his parents: Zanette Waites, John and Lisa Williamson. Nigele was a lifelong member of the Lightning Creek Boys and the Hurricane Creek Singers.
One of Nigele's proudest moments was attending the Native American Music Awards in Salamanca, N.Y., where Lightning Creek received four nominations. Another significant point of pride in Nigele's life was his service on the Lewiston Chamber of Commerce Board of Directors. Meeting Deb Haaland, the Secretary of the Interior, was a significant highlight for him. Above all, his pride and joy were his children, and he was renowned as the best uncle to all his nieces and nephews.
In Nigele's memory, let us remember the love he spread and the lives he touched. His legacy lives on in every heart he touched.
A memorial was held Wednesday, Sept. 6, at the Pineewaus Community Center and his funeral services are at 10 a.m. Thursday, Sept. 7, at the Pineewaus. Burial will follow at the Lapwai Cemetery and dinner to follow at the Pineewaus. Laurie Ann Cloud and Del Rae Kipp are the head cooks and Brooklyn Baptiste is the head digger.
Service Information
Date & Time

Thursday, September 7, 10:00 AM

Location

Pi-Nee-Waus Community Center
99 Agency Rd.
Lapwai, ID 83540

Get Directions
Offer Condolences