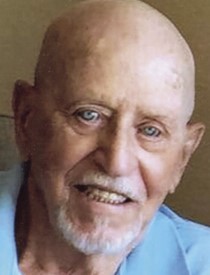 Nicholas Ausman
6/29/1926 — 2/17/2018
After 72 years of taking care of and loving our mother, our beloved father, Nicholas "Dean" Ausman, passed away at age 91 in Lewiston on Saturday, Feb. 17, 2018.
Dad was born in Lewiston on June 29, 1926. He was raised in Asotin, earned his Eagle Scout rank in 1942, and graduated from Asotin High School in 1944. He served proudly with the U.S. Navy on a troop transport ship in the South Pacific from 1944 to 1946. He and Charlotte Sperry, who he met when they were juniors in high school, were married Dec. 24, 1945. They raised their four daughters in Asotin.
He was employed by Potlatch Corp. for 39 years, retiring in 1985. Dad was a charter member of the Asotin Lions Club and a life member of the Lewiston Elks Lodge. He served on the Asotin School Board in the 1960s.
In his younger years, Dad enjoyed hunting and fishing, providing the main dish for many family meals. Later, he and Mom enjoyed many years of golfing and traveling throughout the United States. One of their last big trips was in 2009, when their nephew, Nick Ausman, invited Dad and Mom and Dad's two sisters and their husbands to fish for halibut at his lodge in Alaska. All of the kids thought Nick was quite brave and maybe a little crazy taking on that responsibility. But they all had a wonderful time and returned safely with many pounds of delicious halibut.
For the last 25 years, Dad and Mom enjoyed spending time at their property along the St. Joe River near St. Maries with their children, grandchildren and great-grandchildren. For many years, they worked in their huge vegetable garden there, ending each summer with a Labor Day garden stew.
Dad was preceded in death by his parents, Nick and Gladie Ausman, and his brothers, Gary and Dexter.
Dad loved his family fiercely and unconditionally and leaves many loving memories to be cherished by his wife and his four daughters, Chris (Larry) Wilson of Pomeroy, Deanne (Steve) Hawks of St. Maries, Jean (Jamie) Howlett of Asotin and Joan (Glenn) Doty of Boise; and his sisters, Nickie Jo (Bill) Broyles and LaDoris Smith of Clarkston. In addition, he (Papa) leaves behind seven grandchildren, 18 great-grandchildren and one great-great-grandson, along with many nieces and nephews and their families.
Special thanks for the care Dad received from the staff at Royal Plaza, especially Patti, Opal and Jenny, and Kim Moss from St. Joseph Regional Medical Center.
A celebration of Dad's life and love will take place at a future date. In lieu of flowers, the family suggests sending memorials to a charity of your choice.
May you rest in peace, Dad. You are forever in our hearts and on our minds.
Condolences
Linda Petrie
Jean and family—so sorry for your loss. Thinking of you and your family. Hugs, Linda.
Saturday, February 24, 2018 9:36 AM
Offer Condolences