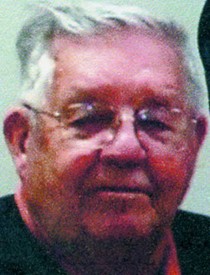 Neil Dammarell
3/13/1925 — 1/11/2018
Neil Stanton Dammarell, beloved husband, father, grandfather, brother and World War II veteran, passed away peacefully at St. Joseph Regional Medical Center in Lewiston on the morning of Jan. 11, 2018, at the age of 92.
Neil was born on March 13, 1925, in Kendrick, to Audrey Bibb (Stanton) Dammarell and Frank Kester Dammarell. He began his education in Reubens, later moving to and graduating from Craigmont High School in 1942.
After graduation from high school, Neil worked a summer at Farragut Naval Training Station before enrolling at the University of Idaho. After his first year at the UI, he enlisted in the U.S. Marine Corps and served his country for three years during WWII. We can never thank him and other veterans enough for their service to our country.
After the end of WWII and upon completing his military service in 1946, Neil enrolled at the University of Idaho and soon met the love of his life, Margaret Madison. Neil and Margaret were married June 2, 1948, in Moscow. Together they raised nine children.
Upon graduating from the UI in 1949, he began a long career working for First Security Bank in July 1949. Neil worked for the bank in Craigmont, Kamiah and Mountain Home before settling in Lewiston in 1954. In 1983, he retired as vice president and manager of the bank's three branches in Lewiston.
Neil was a member of the American Legion Post 13, Lewiston Golf and Country Club, the Lewiston Chamber of Commerce, the draft board and was a friend of the Congregational-Presbyterian Church in Lewiston.
Neil and Margaret instilled the love of the outdoors in their children. Many happy times were spent with the family, camping and fishing along the rivers of Idaho and the Pacific Northwest. He and Margaret loved traveling, visiting all 44 counties in Idaho and all 13 western states, including a summer in Alaska and nearly 25 years as snowbirds in Arizona.
Neil was preceded in death by his parents; and his sister and brother-in-law, Jean and PJ Daily. He is survived by his brother, Dale, and wife Marian; sister-in-law Maryanne Madison; and Margaret, his wife of nearly 70 years. He is also survived by all nine children: Monte (Kathy) of Sun River, Ore.; Susan (Bob) Spain of Norman, Okla.; Chris (Joe) Crum of Anchor Point, Alaska; Frank Kevin Kob of Lewiston; Nancy (Jon) Mueller of Coeur d'Alene; Jane Watkins of Maple Valley, Wash.; Peggy (David) Hamner of Seward, Alaska; Karen (Tony) Orchard of Sandy, Utah; and Rob (Miki) of Spokane. He is also survived by 26 grandchildren; 10 great-grandchildren; and many nieces and nephews, all of whom loved him very much and will miss him.
A celebration of Neil's life will be held at 11 a.m. March 17 at the Congregational-Presbyterian Church in Lewiston. In lieu of flowers, the family suggests donations in Neil's memory go to the charity of your choice.
Service Information
Date & Time

Saturday, March 17, 11:00 AM

Location

Congregational Presbyterian Church
709-6th Street
Lewiston, Idaho 83501

Get Directions
Offer Condolences