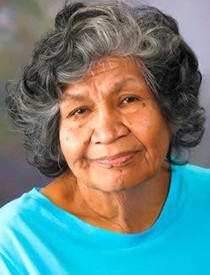 Naomi "Jan" VanPelt
1/10/1935 — 5/8/2019
Naomi Janice VanPelt, 84, of Lapwai, passed away Wednesday, May 8, 2019, in Lewiston.
Naomi was born Jan. 10, 1935, in Kamiah, to Mose VanPelt and Nellie Ezekiel-Gray.
She attended school at Stites Elementary, later attending schools in Springfield, Ore., Pendleton, Ore., and Glasgow, Mont.
She held many jobs throughout the Nez Perce Tribe, working in administration, at the marina and some housekeeping positions.
Naomi's biggest impact in life was her faith. She was a member of the 1910 Shaker Church, but also attended Pentecostal, Seven Drum, Bible study and attended the annual Lapwai Church Camp meeting. She often led Shaker meetings in her home and attended others in the community. She was often called upon to pray for family and friends, or for anyone who asked her to pray for them.
She married Frank Scott, and they later divorced.
Naomi is survived by her brothers, Silas Whitman and Robert Ezekiel; sister Charlene VanPelt; daughters Donna LeClaire, Laurie Bob McMasters, Amelia Spaulding and Jennette Scott; sons Thomas LeClaire and Arnold VanPelt; many grandchildren, great-grandchildren, great-great-grandchildren; and many nieces and nephews.
She was preceded in death by her parents; sister Gail VanPelt; sons Louis and Watkins LeClaire, and Jack and Wilber Spaulding; and grandsons Ira and Mose Elwell.
A memorial service will take place at 4 p.m. today at the Pi Nee Waus Community Center in Lapwai.
The family suggests memorial donations be made to Lapwai Camp Meeting Association at Lewis Clark Credit Union.
Service Information
Date & Time

Friday, May 10, 4:00 PM

Location

Pi-Nee-Waus Community Center
99 Agency Rd.
Lapwai, ID 83540

Get Directions
Condolences
Misala Peo aka BD
May the Creator watch over Auntie as she journeys to our Ancestors. Her sweet smile will be missed but she will be able to remember now all those who loved her. I believe cuz Wilbur is so happy to see his mama again. God bless!!!
Saturday, May 11, 2019 11:36 AM
Family from umtilla res.
To the family support and prayers from this side of the mountains.loveCTUIR
Friday, May 10, 2019 10:26 PM
Leona Tsinajinnie
My heartfelt condolences for your loss..I pray your family continues her legacy and her life is honored for many generations to come. My family is praying along side yours during this difficult time.
Friday, May 10, 2019 1:21 PM
Connie Guillory
Blessings to the family. I have good memories "dancing in the spirit with Jan! She was always so kind and loving. God bless.
Friday, May 10, 2019 12:25 PM
Sheila Jabeth
My deepest condolences to the family. Love & Prayers!
Friday, May 10, 2019 11:05 AM
Offer Condolences