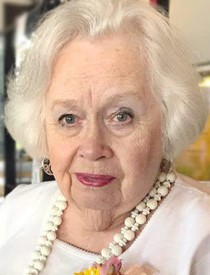 Nancy Follett
6/30/1929 — 5/1/2020
Nancy Carol Follett, 90, passed away Friday, May 1, 2020, in Lewiston, because of leukemia complications.
She was born June 30, 1929, to Ruth and Peter Johnson, in Detroit, Mich. The family settled in Newberry in the Upper Peninsula of Michigan.
Nancy was the oldest of four children. She had two sisters, Patricia and Barbara, and a brother, Peter (deceased). Being a victim of polio as a child gave Nancy determination and an eternally sunny disposition as she survived daunting odds. Forever on the go, Nancy was crowned the "Queen of the North" and Miss Michigan by age 17. She was valedictorian of her 1948 class at Newberry High School.
After graduation, Nancy moved to Detroit, where she attended the Patricia Stevens Finishing School and modeled until working at the Pentagon in Washington, D.C. She sang with several big bands, including the Harry James Orchestra, and was a weathercaster while she doubled as a guide for foreign diplomats in Washington, D.C.
In 1950, Nancy followed her family to Lewiston, where she worked as a bookkeeper for Montgomery Ward. She met and fell in love with her future husband, George Follett. They were married on June 23 and were married for 68 years. Nancy gave birth to and raised three children, Michael, Barbara Jane and Gregory.
Never one to sit still, Nancy was a member of the Jaycettes, the Welfare League (now Lewiston Service League), Daughters of the Nile, P.E.O. Chapter BR and the Lewiston Methodist Church.
Nancy graduated from Lewis-Clark State College with a teaching degree in English, art and geology. Her students remember her as a high-energy instructor who brought creativity and fun to the classroom. She taught at Sacajawea Junior High until her retirement.
Nancy loved to travel with her family to the Oregon coast, enjoying time with her children and grandchildren. She used to ski in McCall and swim and golf in Lewiston. Her daily joy was completing a crossword puzzle. Nancy played bridge for 40 years with a very special group of ladies. Nancy and George traveled each summer to the Shriners Imperial Session throughout the United States and Canada. They traveled extensively, making it to every state except Alaska.
After retirement, Nancy continued to volunteer, travel and spend time with family and friends. She especially enjoyed family get-togethers. She loved adventurous day trips and vacations with her daughter and granddaughters. Nancy was outgoing and had many friends. The best way to describe her is, "She never met a stranger." Her family will miss her immensely. She was our matriarch and truly unique.
Nancy is survived by her husband, George Follett; sisters Patricia (Larry) Butts and Barbara Bryers; children Michael (Thera) Follett, Barbara Jane (Janie) Follett and Gregory (Eleanore) Follett; grandchildren Kimberley (Andy) Tuschhoff, Dana Eberhard, Reny (Veronica) Follett, Emerson (Lisa) Follett and Alexander Follett; and great-grandchildren Kaiden Eberhard and Jameson Follett.
A celebration of her life will be held at a later time, when family and friends can be together. She wanted this to be a joyous time, not a sad one. Memorials can be made to the Shriners Hospitals for Children.
Offer Condolences