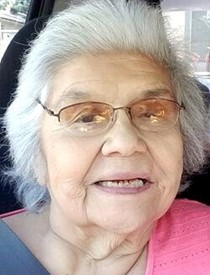 Myrna Louise Sonneck
1/28/1939 — 7/6/2022
Myrna Louise Sonneck, 83, a Nez Perce Native American of Lapwai, was born Jan. 28, 1939, to Millie M. Andrews and Charles Jackson.
She died peacefully Wednesday, July 6, 2022, in Colville, Wash. Brothers include Adrian Moody, of Lapwai, and Gregory Jackson, of Warm Springs, Ore., and a sister, Wanda Jackson, of Warm Springs. She is preceded in death by three brothers, William Steven Jr., of Arrow, Maynard Ellenwood Jr., of Lapwai, and K.C. Jackson, of Warm Springs; and three sisters, Gloria Moody of Lapwai, Louella Jackson, of Warm Springs, and cousin/sister Velma Faye Compo of Lapwai.
She was married to Kenneth Sonneck but later divorced. They had four children, Murray Sonneck, of Winchester, Melissa Seyler, of Wellpinit, Wash. (Warren Seyler), and Mia Sonneck, of Lewiston. She is preceded in death by a daughter, Malita L. Sonneck.
Grandchildren include: Sage Sonneck, (Taunie Cullooyah), Jordan Sonneck (Andrea Sonneck), Dayne GoodHeart (Patricia GoodHeart), Cheyenne Swift (Ashley Oatman), Kennedy Seyler, Katie Cate (Alex Cate), and Edward Seyler. Great-grandchildren include: Louis Cullooyah, Colby White, Ali White, Semiah Jackson, Sinmsci Sonneck, Snpaqcin Sonneck, Jaleia Sonneck, Jayda Sonneck, Jordan Sonneck Jr., Alexis Swift, Kayden Cate, Jurney Cate, Talon Cate, Logan Cate, KaliAnn Cate and Ginna Wilson.
She worked for the Nez Perce Tribe in early years at the Commodity Foods Program, and in the Alcohol Prevention Outreach Program. She loved beading and traveling to various sporting events to watch her grandchildren play.
A memorial for Myrna will be at 6 p.m. today at Malcom's Brower-Wann Funeral Home, 1711 18th St., Lewiston. Her funeral will be at 10 a.m. Saturday, at the Lapwai Assembly of God Church, 400 S. U.S. Highway 95, Lapwai. Burial will be at Coyote Cemetery. Dinner to follow burial at the church.
Offer Condolences