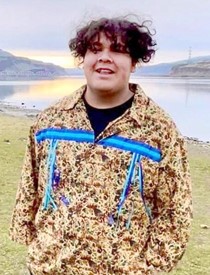 Moses Yellowhorse Pappan
9/26/2005 — 4/16/2022
Moses Yellowhorse Pappan entered this world Sept. 26, 2005, at 9 pounds, 2 ounces. He went back to the Creator on Saturday, April 16, 2022. He was 16 years of age.
Moses was an enrolled member of the Nez Perce Tribe and a direct descendant of two grandmothers who survived the war against the Nez Perce in 1877, Hamiqosaqoy and Hiyumkiyum'mi. Moses was a student at Lapwai Elementary, and at the time of his death was a proud student at Lapwai High School. He was a member of the future class of 2024.
Moses was an athlete who loved to play basketball and football. He was a member of the Baby Wildcats football team. He played in the Play in Your Moccasins (PIYM) tournament in Lapwai that brought more than 90 teams from all over the country to play basketball in the annual basketball tournament. He was part of the PIYM family that traveled to other tournaments and had fundraisers throughout the year, building up to the big PIYM tournament. He was on the team Wip Wip. He loved to travel with friends and family all over the Northwest for basketball tourneys and even as far as Reno and Las Vegas to win championships. He enjoyed all of his coaches, mentors, sponsors and teammates and they all became an extended family to Moses.
Like many native youth, Moses spent a lot of his time at the Nez Perce Tribe's Boys and Girls Club in Lapwai. He attended Nez Perce Tribal Cultural Camp in Joseph, Ore., for many summers. He participated in the Nimiipuutimki (Nez Perce Language) Bowls, traditional basket weaving and tule mat making. He comes from a family of expert dip net making and expert fishermen, learning many things from his Papa AK Scott. Moses participated fully in his culture and so speaking Titooqatimkti (speaking his Indian language) was something he truly enjoyed.
Anyone who knew Moses knew him to be funny. He was full of laughter and always smiling. He was known by his friends as being "cool," he had lots of patience and respect, and such a gentle demeanor. As the oldest of his siblings, the "big brother," he always took care of his siblings. His siblings and family knew him to be an exceptional big brother.
Moses was preceded in death by poox Loretta Burke Scott; poox Eugene John; taqa Douglas Holt Marconi; qaaca Loretta Doney-Hawley; and great-grandparents Beatrice Oatman Miles and George Burke.
Moses is survived by his 'iic'e Lalonni Burke; toota Littlehawk Pappan; qanis Timani; nipe Douglas and nipe Benjamin Pappan; qaaca Marilee Burke-John; palaqa AK Scott; palaqa Vincent Hawley; qeqe Liz Burke, Teri Hawley and Paula Hawley; taqa Justin Hawley; ee'le Donna Shay Gannon; qalaca Joseph Pappan; brothers, Christopher Bohnee, DJ Wheeler, Seth Whitman, Joey and Rafael Taylor; sister Marina Ellenwood; and friends and family who knew and loved him.
Services will take place Wednesday, beginning at 1 p.m. with a dressing at Malcom's Brower-Wann Funeral Home, 1711 18th St., Lewiston. At 4 p.m., the traditional service will be held at Pineewaus of Lapwai, followed by a light supper 4:45-5:30 p.m. An open denomination led by Mary Jane Miles will take place at 6 p.m. with Waluhsut Services led by Andre Picard to follow. A midnight traditional foods meal will take place that evening. On Thursday, the day will begin with a light breakfast at 5:30 a.m., followed by a sunrise service at 6 a.m. There will be a sunrise burial at the Nez Perce Cemetery of Lapwai. At 9:30 a.m., there will be a Handshake Ceremony, Crying Ceremony at Pineewaus followed by lunch at 11:30 a.m. The services will end with a 1:30 p.m. giveaway and closing.
Quotes: "Both suffering and happiness are of an organic nature, which means they are both transitory; they are always changing. The flower, when it wilts, becomes the compost. The compost can help heal the flower again. Happiness is also organic and impermanent by nature. It can become suffering and suffering can become happiness again." — Thich Nhat Hanh
Service Information
Date & Time

Thursday, April 21, 6:00 AM

Location

Pi-Nee-Waus Community Center
99 Agency Rd.
Lapwai, ID 83540

Get Directions
Offer Condolences