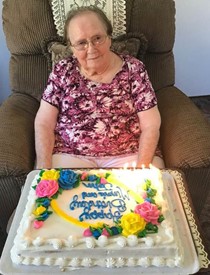 Minnie Hedler
7/15/1929 — 10/3/2019
Minnie Lou Hedler, 90, passed away Thursday, Oct. 3, 2019, in Lewiston.
Minnie was born July 15, 1929, in Pyatt, Ark., to John and Beulah Peters.
In 1937, Minnie, her parents and three siblings made the long journey to Juliaetta, the place Minnie would call home for the next 80-plus years.
Minnie attended elementary and high school in Juliaetta. She cherished her school friends and took great pleasure in reminiscing and sharing memories from her youth.
On Oct. 18, 1952, Minnie married her childhood sweetheart and "honey," Mikey Hedler. The couple made their home and started their family.
Minnie worked as a telephone operator at the Kendrick/Juliaetta telephone company, and later assisted her husband with the family business, Hedler Oil.
At heart, Minnie was a homemaker. She raised two wonderful children and later enjoyed many days spent caring for her grandchildren, who were truly her pride and joy.
Minnie was remarkably sweet and kindhearted, and she loved her family unconditionally. She was also a member of the Juliaetta Lutheran Church, where she prepared communion for many years.
Minnie treasured a beautiful and special bond with her sister, Freda Farrington. After both were married, they lived across the street from one another for the remainder of their lives, and not a day passed in which the two didn't call one another.
The sisters regularly traveled to Lewiston with Minnie's granddaughter, Mandy Collins, and her nephew, Andrew Tweit. These trips were, and will continue to be, cherished memories.
Over the last few years, Minnie's late husband cared for her. This was a beautiful testament to their marriage.
Following his passing, Minnie was then cared for by her daughter, Judy. This, along with the assistance of her caregiver, Jacque Nelson, allowed Minnie to continue to live in her beloved home.
The family extends profound gratitude to Jacque, who treated Minnie like family, and to Dr. David Peterson for his dedication, compassion, and the exceptional care he provided.
Special thanks also goes out to the staff of St. Joseph Regional Medical Center for the personal and extraordinary care they provided Minnie in her last days.
Her family will forever miss their Minnie, and they're committed to honor and celebrate her life in special ways.
Minnie is survived by her daughter, Judy Hedler-Green, of Juliaetta; son John (Connie) Hedler of Juliaetta; granddaughter Mandy Collins of Las Vegas; grandsons Lance Hedler of Moscow and Mitch (Christine) Hedler of Lewiston; great-granchildren Raegan, Sadie, Clayton and Bailey Hedler; and sister Frankie Alfrey.
She was preceded in death by her husband, Mikey Hedler; brother Tom Peters; sister-in-law Ione Peters; sister Freda Farrington; brother-in-law Everett Farrington; great-niece Katie Tweit; and her parents, John and Beulah Peters.
Donations in Minnie's memory can be made to the J/K Ambulance Fund; Pat Rush Medical Assistance Fund; and the J/K Heritage Foundation.
Funeral services will be held at 1 p.m. Wednesday, Oct. 9, at Malcolm's Brower-Wann Funeral Home in Lewiston. Hugh Laybourn will officiate the service, and burial will follow at the Juliaetta Cemetery.
Service Information
Date & Time

Wednesday, October 9, 1:00 PM

Location

Malcom's Brower-Wann Funeral Home
1711 18th Street
Lewiston, ID 83501

Get Directions
Offer Condolences