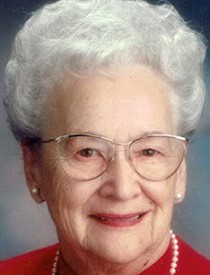 Mildred Forsman
11/5/1917 — 11/7/2018
Hazel Mildred Forsman, 101, a resident of Lewiston, died Wednesday, Nov. 7, 2018, after a long and joyful life.
She was born in Oakley, Idaho, on Nov. 5, 1917, to Jessie and Pearl Stout, the fourth of six children. The family soon moved to California, settling in San Bernardino, where Hazel met her childhood sweetheart, Milton Barrett. They married in 1936 and had one daughter, Barbara Ann.
During World War II, Hazel worked on instrument construction, painting radium dials, flight instrument QA and sabotage investigation for the U.S. Air Force and Sperry Instruments.
After the war, Hazel and Milt were stationed in Morocco, and she delighted her nieces and nephews with many postcards from her adventures in North Africa and her travels through Europe. While in Morocco, she sang in the choir, volunteered at the hospital and was active in the community organizing shoe donations for local children.
In 1969, Hazel married Bernard Forsman, and they lived in Lewiston and Lapwai for many years. She was an avid gardener, hunter and fisherwoman. Always putting family first, she took time to live with her sister and nieces/nephews caring for them while her sister was dying of cancer and did the same for her mother prior to her death. Just before her daughter's death in 1979, she also volunteered to raise her grandson, Joe Gish.
Never one to let life slow her down, she began another adventure after her husband's death in 1998 by moving to Kent, Wash., to live with her grandson, Joe, and his family. She returned with Joe and his family in 2017 to Lewiston, where she had her 100th birthday at LifeCare. Her birthday was well attended, with nieces and nephews traveling from Walla Walla and as far away as Arizona and California.
Hazel is survived by her grandson and wife, Joe and Mona Gish of Lewiston; her great-grandchildren, Madeline Gish at Hillsdale, Mich., and Malcolm Gish of Pullman; her grandson, Wesley Gish of Fayetteville, Ark.; stepson and wife, David and Marian Forsman of Lewiston; and a sister, Gleva Montelius of Barstow, Calif. She was preceded in death by siblings Lee Stout, Neva Stout, Laura Jean Downing and Ruth Williams and her daughter, Barbara Gish, and granddaughter Dana Gish.
A memorial service will be held at 11 a.m. Nov. 25 at Good Hope Lutheran Church in Gifford, officiated by the Rev. Val Beesley. Interment will follow at the Melrose Cemetery. The family suggests memorials be made to Good Hope Lutheran Church, 28157 Settlement Road, Lenore, ID 83541.
Service Information
Date & Time

Sunday, November 25, 11:00 AM

Location

Good Hope Lutheran Church
28157 Settlement Road
Lenore, Idaho 83541

Get Directions
Offer Condolences