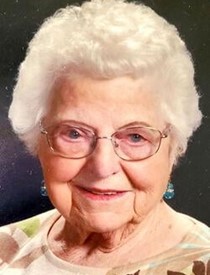 Mildred E. "Millie" Jones
8/28/1921 — 10/18/2022
A choir of angels welcomed Millie as she passed in her home surrounded by loved ones Tuesday, Oct. 18, 2022. Remarkably, she celebrated her 101st birthday in August.
Mildred Ellen Michelbach was born Aug. 28, 1921, in Bynum, Mont., to John Frederick Michelbach and Minnie Kempf. Millie enjoyed farm life with her sisters Hilda, Barbara and Loraine. She attended high school in Choteau, Mont. Because her high school was so far from the farm, she worked for her board and room in town to attend Choteau High School, graduating in 1939.
After high school, Millie worked for Montana Power Company in Choteau. She moved to Lewiston to live with her sister Barbara in 1940. Millie worked for C. C. Anderson Company and Washington Water Power while in Lewiston. Millie rented an apartment in Lewiston and enjoyed dancing on the weekends. Olive, her best friend, and Millie joined the Moose and Elks lodges for about $10 a year social membership to go out dancing. One time, Millie was invited on a blind date by Olive, who was dating Wylie Worthington, and Millie met her future husband, Ron Jones.
On Jan. 10, 1943, Millie married Ronald F. Jones in Portland, Ore., at her parents' home. Millie's sister Barbara Lufkin was maid of honor and Wylie Worthington was Ron's best man. They made their home at Headquarters, Idaho. Millie would comment that she wasn't quite sure what she had gotten into when she arrived at her new home with 14 feet of snow overshadowing the entrance, but the bonus was, no need to cook. Everyone would go to the cafeteria to eat meals for a $1 or less. Not long after they were married, Ron was drafted into the service. He left for Fort Bragg, Ky., in 1944. Millie went to live with Ron's mother, father and sister in Spokane. After Ron's boot camp, Millie and a friend, whose husband was also there, drove to Kentucky. Ron surprised Millie with tickets to the Kentucky Derby. This has been one of Millie's favorite memories throughout the years.
In 2007, Millie and Ron celebrated their 65th wedding anniversary. They were blessed to have the original wedding party, Millie and Ron; maid of honor, Millie's sister, Barbara Lufkin; and Ron's best man from Pennsylvania, Wylie Worthington. They shared their lives with family and many guests over the weekend with open house and picnic.
Ron was employed by the Camas Prairie Railroad Company for 42 years, working in Headquarters, Grangeville and Lewiston. They were blessed with five children: Carolyn, 1947; Dennis, 1950-1973; Roger, 1953; Robert, 1955; and Thomas 1965. Millie and Ron moved to Lewiston in Fall 1953. Ron and Millie became members of the Congregational Presbyterian Church in Lewiston, and continued members until today.
Their home in Lewiston Orchards boasted a large garden that was a family affair during the summer harvest. Millie canned and preserved the bounty for their growing family. There was always a project to complete. Ron and Millie enjoyed many hunting trips to fill the freezer for winter.
Ron retired in 1980. Ron served as mayor of Lewiston 1970-74. Along with being a Mayor's wife, Millie worked for the Lewiston School District for 21 years, also retiring in 1980.
During Ron's term as mayor, Millie and Ron traveled to Washington, D.C., to the president's Mayor's Breakfast. Ron has been a member of the Elks Lodge for more than 65 years. Also, Ron has been a member in various Masonic organizations more than 70 years. Many trips traveling with these organizations and the Shiners over the Northwest and meeting members were enjoyed by Ron and Millie. She continued to enjoy traveling and seeing family and old friends throughout the years afterward.
Millie was an avid bridge player, golfer and fisher, especially after retiring. Millie and family attended two Worlds Fairs, Seattle in 1962 and Spokane in 1974. Many vacations were spent at national parks, but the most fun was fishing on the North Fork of the Clearwater. After slack water, they enjoyed fishing on Dworshak Reservoir State Park.
Millie and Ron's major retirement was building their dream home with a view of the city, which they have enjoyed for 40-plus years. Millie enjoyed entertaining, planning, designing, and sharing with friends and family their home. Many holidays were spent and enjoyed celebrating.
Some of their retirement traveling included Millie and Ron visiting her family in England and touring Europe. They went on cruises to the Caribbean and Alaska, and traveled extensively with their RV around the United States and Canada visiting extended family and friends. One of Millie's favorite memories was reminiscing camping trips with the "Church Group" to various destinations including the Oregon Coast many times. Many stories were told of clamming and cooking them right in the camp ground with the big clam pot. They also spent many winters down south as "snowbirds." Millie would often remember a story or two to tell about her travel experiences.
Millie's community service always included donated time for fundraisers for various organizations of which she was a member: Women's Club at Congregational Presbyterian Church, Past President, Chapter BL PEO, Member of Daughter's of The Nile, Malac Temple No. 55, and Tsceminicium Club.
She was preceded in death by her son Dennis; her parents; and her sisters Hilda Moulton, Barbara Lufkin and Loraine Hickman. Millie is survived by her husband of 79 years, Ronald Jones; children Carolyn (Randy Bloom) Jones, Roger Jones, Robert (Kathy) Jones and Tom(Debi) Jones; numerous grandchildren, great-grandchildren, great-great-grandchildren and great-great-great-grandchildren; and sister-in-law Eleanor Webster, of Spokane. She remembered and loved all of the grandchildren and always enjoyed their visits. Millie had a special toy area that also included fun children's books to read and the familiar children's games.
The family is thankful Millie was able to stay at home with the wonderful care provided by staff and aides at St. Joseph's Hospice, Seubert's, and Open Arms.
A viewing will take place from 3-6 p.m. Tuesday, Nov. 1, and from 11 a.m. to 1 p.m. Wednesday, Nov. 2. A graveside service will be held at 2 p.m. Wednesday at the Normal Hill Cemetery, Masonic Row 10, in Lewiston. After the service, refreshments will be at the Masonic Lodge NezPerce No. 10, 1122 18th Ave., Lewiston.
Memorials may be made to Congregational Presbyterian College Scholarship Fund in memory of Mildred Jones, 709 Sixth St., Lewiston; or donate to a charity of your choice.
Malcom's Brower-Wann Funeral Home of Lewiston is in charge of arrangements and condolences may be left at malcomsfuneralhome.com.
Service Information
Date & Time

Wednesday, November 2, 2:00 PM

Location

Normal Hill Cemetery
1122 7th Street
Lewiston, Idaho 83501

Get Directions
Condolences
Gary and Connie Riggers
We are so very sorry to read of Millie's passing. Please know you will forever be in our hearts
Gary and Connie Riggers
Wednesday, October 26, 2022 8:37 PM
Offer Condolences