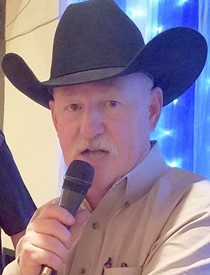 Michael Weiss
2/8/1958 — 11/2/2019
Michael John Weiss, 61, passed away in an accident Saturday, Nov. 2, 2019, near Nezperce, while collecting his beloved cattle herd from their summer pasture.
He was born Feb. 8, 1958, to James H. and Joanne Wolf Weiss, in Lewiston.
Mike was "lucky enough" to have grown up in the rural community of Tammany, where his collection of friends and memories began. He attended Tammany School through the eighth grade — he was a proud Tammany Tiger! After graduating from Lewiston High School, Mike attended the University of Idaho, where he flourished on the livestock judging team. This was of course after his many years in the local 4-H program, where his love of livestock and all things rural began — he was a proud member of the Tammany Guys and Gals. In fact, in 1975 he was named the county's top 4-H boy. This began a lifelong passion for Mike. Over the years, this reflected loudly as he attended and worked at many livestock shows, rodeos and county fairs, where he served as livestock judge in many cases. If there was a fair anywhere, you could count on finding him in the stalls with local kids, teaching them every aspect of raising and loving animals. Mike's life was ingrained in the agricultural community.
A 32-year career began in 1976 at Twin City Foods, where he worked in a management position, further adding to his collection of lifelong friendships and great stories! As Mike would say, "I'm the last man standing," and the plant closed in 2008, but those enduring friendships remain today.
Mike married Shelley Strohm in 1990, and they were blessed with their precious daughter, Kara. Their marriage later ended in divorce. Mike loved being Kara's dad. He was constant encouragement to her and her friends. He was thrilled to attend a basketball trip with her team to Sitka, Alaska, and it was a cherished honor to speak at her high school graduation.
In 1997, new adventures began. Mike married Linda Close, and Care Connection was born. Mike loved visiting with clients and they loved his stories and vibrant personality.
And then "She's Wild!" came along. A smiling Mike Weiss became part of the Lewiston Roundup family in 2010 and much was accomplished. Mike's get-it-done attitude served the organization well. The "Horseman's Ball" took root and has become an anticipated event. The volume of the Lewiston Roundup turned up. The stagecoach rides were epic, and he took pride in riding the flag around the arena, traveling with the royalty and watching his "baby girl" ride as royalty. Mike realized a lifetime goal of being a part of it all. Mostly, the smiles came from the relationships and collecting lifetime friends.
This past year, Mike's love of 4-H came full circle as he left the Roundup board to go back to his childhood roots. He and a collection of friends poured themselves back into the community 4-H program. They mentored young people with their 4-H projects nightly and Mike used his loving connections to bolster the program financially. He was in his element.
Somewhere in between all of this, Mike went to auctioneer school. He had the "auctioneer song" down perfectly and entertained his nephews and many cousins with this talent.
He was the auctioneer for the Anatone-Asotin Booster Club annual auction for 25 years. It started out as a way to help supplement a few small activities, but with Mike's generous help, it became a premier event that helps fund many educational endeavors. He lent his auctioneer services to so many worthy, wonderful causes, none more dear to him then the Jackson Baldwin Foundation. His heart for helping children was bigger than him. The relationships he added to his friend collection grew again.
Aside from always giving himself to the community, he had many hobbies and he was good at them all. Woodworking, leatherworking, braiding reins, coin collecting, horseback riding, raising cattle, fly fishing and tying were among his hobbies, and he gifted many of these items to his collection of friends.
"Ask not what your community can do for you, but what can you do for your community." This was Mike's quote at Kara's high school graduation. This statement exemplifies his life, one of bettering his community with actions and deeds.
He is survived by his loving wife, Linda; daughter Kara Weiss, of Genesee; mother Joanne Bolick, of Asotin; brother Kenneth (Janine) Weiss, of Asotin; nephews J.D. (Kristina) Weiss, of Spokane, and Jake Weiss, of Clarkston; stepson Christopher (Lisa) Close, of Rathdrum; stepdaughter Carrie (Mike) Loomis, of Lewiston; step-grandchildren Caelyn (Josh), Corey, Cieana (Ethan), Casey, Camryn, Ryenn and A.J.; great-grandchildren Tatum, Baylor and Hank; and stepsisters Linda (Dan) Swearingen and Barbara Bolick.
Mike was preceded in death by his father, Jim; stepfather Jack Bolick; and stepbrother John Bolick.
A visitation will take place from 4-6 p.m. Thursday at Malcom's Brower-Wann Funeral Home, 1711 18th St., Lewiston. A celebration of Mike's life will take place at 1 p.m. Sunday in the Red Lion Seaport Room. You are among his collection of friends.
As a good friend said, "Mike never told a short story." Please come and share in this wonderful man's legacy by sharing friendships and connections. He would be so honored.
In lieu of flowers, contributions may be submitted to the Joe Thometz 4-H scholarship fund, 1239 Idaho St., Lewiston; or the Jackson Baldwin Foundation, 3527 Eighth St. C, Lewiston.
Service Information
Date & Time

Sunday, November 10, 1:00 PM

Location

Red Lion Hotel
621 21st Street
Lewiston, Idaho 83501

Get Directions
Offer Condolences