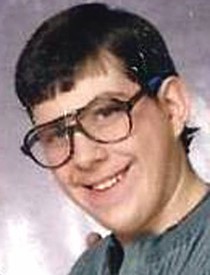 Michael Ireland
10/29/1976 — 11/4/2017
Michael John "Mikey" Ireland, beloved son and brother, age 41, passed away the afternoon of Saturday, Nov. 4, 2017, at his home in Lewiston.
Mikey was born Oct. 29, 1976, to Mike and Connie (Collingwood) Ireland in Wiesbaden, West Germany, where he immediately wrapped his parents, his older brother, Mark, and his sister, Carrie, around his little finger. Years later he would become acting big brother to Taylir and Tarren Danner.
Michael attended McSorely Elementary, Jenifer Junior High and he graduated from Lewiston High School in 1996. School was a particular challenge for Mikey. He (and his mother) helped to redefine what inclusion looked like for people with disabilities in the Lewiston School District. Many people have benefited from the challenges that Michael confronted (and found solutions to) first.
Michael was particularly proud of his job at the Dairy Mart on the corner of 17th Street and 11th Avenue. He worked there for many years following high school. He was a good worker and many people will remember him from his time there.
Michael, while he was still able, was especially accomplished at bowling. He met regularly at Orchard Lanes with a small group to bowl on Friday mornings for many years. He served on the board of FACT (Families Advocating Change Together), and was instrumental in planning many activities and social functions for the disabled members of our community and their families.
Michael had an encyclopedic knowledge of Disney animated features, Star Wars movies and characters, and Teenage Mutant Ninja Turtles that few could compete with. He loved movies and cartoons, and he eagerly collected the action figurines associated with them.
Michael touched many lives. He was a kind and soft-hearted friend, and a practical joker with a keen and subtle sense of humor. He loved his family and the family pets fiercely. Michael had the largest baby blue eyes and knew how to use them to his advantage. Many an uncomfortable appointment was followed by a trip to the Dairy Queen for a banana split. He had completely mastered the fine art of getting out of trouble with just a grin.
He is survived by his mother, Connie Ireland, and sister Carrie Ireland, both of Lewiston; father Mike Ireland of New Plymouth, Idaho; brother Mark Ireland of Boise; and family pets Eddie, Jack, Linus, Oliver and String. He also leaves behind his special friends, Dorothy Moyer, Blaine Jackson, Penny Klossner, Jay, Brenda and Tonia Uhlrich, and many more.
Thank you to all the people who have helped to care for Mikey, especially the nurses and doctors on Third Floor Medical, Dr. Petersen and nurse Brooklyn.
A celebration of life for Mikey will take place at 2 p.m. Tuesday at Our Savior's Lutheran Church in Clarkston. A reception will follow the memorial service in the fellowship hall.
Service Information
Date & Time

Tuesday, November 14, 2:00 PM

Location

Our Savior's Lutheran Church
1115 13th Street
Clarkston, Washington 99403

Get Directions
Offer Condolences