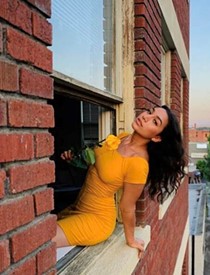 Maxine Gabriella Garcia-Ruiz
11/19/1998 — 5/13/2023
Maxine Gabriella Garcia-Ruiz, 24 years old, passed away Saturday, May 13, 2023, in Pasco.
Maxine was born Nov. 19, 1998, in Chula Vista, Calif., to mother M. Lisa Garcia and father Francisco Ruiz, joining three sisters and one brother in a large and loving family.
Maxine grew up in Clarkston and attended Charles Francis Adams High School for the first couple years before ultimately graduating from Enochs High School in Modesto, Calif., in 2017. This is where she met her boyfriend Neil Lahti, with whom she had a loving relationship.
Maxine found her niche working as a member ambassador in gym sales for the PAC Gym in Pasco.
Maxine's enjoyments in life were taking long walks with her partner Neil Lahti, spending time reading Manga and watching anime. Her adventurous fierce spirit is reflected in her niece who often accompanied her on dates.
Maxine's beautiful smile always shined brightly when she helped family and friends as a makeup stylist as she believed everyone had their own unique beauty. She found delight in being able to show them. Maxine's welcoming presence, and being able to laugh like old friends with new people, built a strong foundation of connections with individuals who wholeheartedly loved her. Maxine's kind, spontaneous personality brought joy to everyone around her. She will be dearly missed.
Maxine is survived by her grandmother Tonia B. Garcia; mother M. Lisa Garcia and father Francisco Ruiz; her sisters Gloria, Tonia and Angelis Garcia; her brothers Orlando Garcia, Zachary Terry; her niece Cataleya Terry, and her nephew Luka Terry.
Maxine is preceded in death by her grandfathers Orlando Garcia, Jaun Contreras and Herlindo Najera Torres; her great-grandmothers Marijayne Moody, Esperanza del Rio, and her great-aunt Maria de los Angelis Najera del Río.
Her memorial service will begin at 7 p.m. Saturday, May 20, at the Pi-Nee-Waus Community Center, 504 Main St., Lapwai.
Funeral and burial services will be held at 10 a.m. Sunday, May 21, at Meadow Creek Church in Ferdinand. This will be for family and close friends. Dinner will follow at 2 p.m. at the Pi-Nee-Waus Community Center.
Service Information
Date & Time

Saturday, May 20, 5:00 PM

Location

Pi-Nee-Waus Community Center
99 Agency Rd.
Lapwai, ID 83540

Get Directions
Offer Condolences