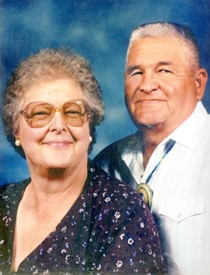 Mary White
11/15/1939 — 9/24/2021
Mary (Hanson) White passed away Friday, Sept. 24, 2021, at St. Joseph Regional Medical Center.
She was born Nov. 15, 1939, in Craigmont, the oldest daughter of Harold and Olive Hanson. Mary graduated from Lewiston High School in 1957. Through her brother Kenny she met her future husband, Billy White. They were married Nov. 29, 1957, in Lewiston. They moved around a little bit before finally settling in Spalding with their son, Jamie, and daughter, Eva. While living at Spalding, Mary and Billy welcomed their second daughter, Elizabeth. In 1968, they made their final move, to their current home on Tom Beall Road, where they welcomed their youngest daughter, Crystal.
Mary loved meeting and visiting with people, but her family was number one in her heart. She and Billy tried to attend every event their kids and grandkids were involved in, and Mary's most favorite thing was to have everyone at the house for family gatherings. Except for a brief job at Uncle Bill's Pickle Factory, she was a stay-at-home mom while her kids were young. That ended when she went to work for the Lapwai School District in their cafeteria, where she worked until her retirement.
Mary was the Brownie/Girl Scout leader in Lapwai for a number of years, as well as a leader in the Farmers Daughters 4-H club. She was involved in the Lapwai PTA and also looked forward to serving as an election judge for the Lapwai area. She loved visiting with everyone who came in to vote. After her retirement, Mary continued being involved in the community, including being a YWCA board member and delivering Meals on Wheels.
Mary was a member of the Advent Christian Church (Church of New Hope) until its closure in 2015 and considered those who attended family. She and Billy attended the Lapwai Methodist Church for the last few years of her life and she was very thankful to be able to spend time with such loving people.
Mary is survived by her son and daughter-in-law, Jamie and Holley White, her daughter, Eva White, her daughter and son-in-law, Liz and Troy Dotson, all of Lewiston, and her daughter, Crystal White, of Lapwai. She is also survived by the loves of her life, her nine grandchildren: Cody, Cyleen, Halle, Hayden, Orion, Corbyn, Colton, James and Orianah, and two great-grandchildren, Mary and William. She is also survived by her brother and sister-in-law, Bill and Vicki Hanson, of Lewiston, sister-in-law Karole White, of Lapwai, and many nieces, nephews and cousins. She was preceded in death by her husband of 67 years, Billy; her parents; her brothers, Kenny and Robert Hanson; and her sisters, Julia and Jeannie Hanson.
A public viewing will be held from 4-6 p.m. Wednesday at Malcolm's Brower-Wann Funeral Home. Because of the current public health concerns, there will not be a funeral service. There will be a family graveside service at 10:30 a.m. Thursday at the Grant Family Cemetery, Lapwai.
Memorial contributions may be made to the YWCA.
The family would like to thank everyone who helped Mom while she fought her final illness. A very special thank you to Kim Sibely, who cared for Mom like she was her own mother. Finally, we send love and thanks to her many family, friends and all who were a part of Mom's life.
Service Information
Date & Time

Thursday, September 30, 10:00 AM
Offer Condolences