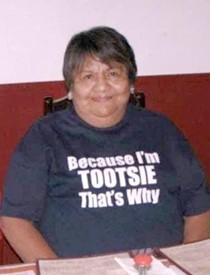 Mary Souther
5/29/1936 — 9/11/2021
Mary Jane (Walker) Souther, 85, of Lapwai, went home to her Lord and Savior on Saturday, Sept. 11, 2021.
She was born May 29, 1936, to Lynus and Isabelle (Moody) Walker at their home in Kamiah — the first born to the family. She was a member of the Nez Perce Tribe and was proud to be one of the few remaining full-blood (4/4) members. She was fluent in speaking the Nimiipuutimpt (Nez Perce language) and Spanish. She was honored to be selected as the 2020 female Nez Perce Elder of the Year.
Our mom was better known to everyone as Tootsie. As a child, she attended classes at one of the last one-room school houses in the Winona area before continuing her education at Kamiah Elementary and high schools, graduating with the class of 1955. She is a 1956 graduate of Lewiston Business School and a 1975 graduate of North Seattle Community College with the Community Health Advocate Program. Later in the 1980s, she attended three years at the University of Washington before moving back to Kamiah.
She and Raymond Leroy Souther Sr. were married Sept. 22, 1956, at the Second Indian Presbyterian Church in Kamiah. They remained in Kamiah until 1958 when the government relocated the family to Palo Alto, Calif., through the Indian Relocation Act of 1956. They returned to Kamiah and remained there until about 1965, when they again were relocated to Seattle. They remained in Seattle for a few years, returning to Kamiah in 1972.
Our mom was an advocate for children and elders for much of her adult life. Growing up in the civil rights era, she had a passion for fighting injustices against anyone, but especially for children. Her civil rights passion extended beyond the United States when she traveled with a group in 1970 to Cuba to help with humanitarian aid. She was honored to make a speech to the Castro regime, advocating for human rights.
Throughout her career working for the Nez Perce Tribe, she held positions as an advocate for families and senior citizens, a Community Health Representative, and was one of the committee members who established the children's home in Lapwai. As the recreation director for the Wa-a'yas Community Center, she would remain open late into the night for youth to have a place to go. They would play basketball and she would set up card tables for kids to learn to play pinnacle.
She was a member of the Tribal Employment Rights Commission (TERC) and served as the chairperson. She traveled throughout the United States to other reservations to assist with tribal employment rights issues. As the chairwoman for TERC, she addressed the Idaho State Legislature and the governor and was known by many in the political arena. At Nimiipuu Health Clinic in Lapwai, she was the benefits coordinator, assisting mostly senior citizens in signing up for Medicare and obtaining health insurance for others. After she left this position, people would still seek her advice and help to obtain benefits.
While in Seattle, she worked at a homeless shelter, often cooking pots of food to make sure everyone had something to eat. She was proud to be asked to join the Circle of Elders with the Nez Perce Tribe and served as their chairwoman. She was passionate and dedicated to every position and committee she served.
She was a lifelong member of the Second Indian Presbyterian Church in Kamiah and was elected by the congregation to serve as a Ruling Elder. Our mom loved the Lord, Jesus Christ, with all her being. She was one to show true Christian love to everyone she met. People often comment to us that Mom gave the best hugs and her smile would make them know everything would be OK. For many years, she served on local and national Presbyterian Women's Committees, attended Presbytery meetings in Spokane, and was a member of the Talmaks Presbyterian Church Camp. Her work for the Lord went beyond committees she served, but was taken to the streets to win people for Christ. She would cook food for the homeless, and when she delivered it, she would also read scripture and preach. Her example as a Christian woman has touched many lives.
She was preceded in death by her parents, Lynus and Isabelle Walker; brothers Jerry, John "Judd," Larry "Bibo" and Alan "Peewee"; and grandson Franklyn Taylor. She is survived by her sisters, Connie (Steve) Evans and Chris Walker, of Lapwai, and Shirley Guzman, of Kamiah; her children, Kathy (Phillip) Taylor, of Lapwai, Raymond "Spike" (Denise) Souther, of Kooskia, Maple (Steve) Stuivenga and Edward "EJ" (Chere) Souther, of Kamiah, and Wanda Souther, of Lapwai; son-in-laws Tim Mendenhall, of Lapwai, and Bob Kirtland, of Kamiah; grandchildren Tanya Taylor, of Toppenish, Wash.; Chantelle Souther and Jennifer (Cody) Konen, of Lewiston; Rachel Kirtland, of Spokane; Joseph Simler, of Spokane Valley, Wash.; Matthew, Aidan, and Abigail Souther, all of Kamiah; Roxanne Reed, of Lewiston; Whitney Reed, of Post Falls; and Austin Mendenall, of Kamiah. There are many cousins, nieces, nephews, grandchildren, Puux (great-grandchildren) and friends who loved her.
Services will be held at 10 a.m. today at the Second Indian Presbyterian Church in Kamiah. A livestream of the services will be provided on the Nez Perce Tribe Facebook page. A private burial will take place at a later date.
We want to extend our heartfelt gratitude to the many relatives and friends who reached out to us throughout our mom's illness. And a special thank you to the caring nurses and doctors of the PCU at St. Joseph Regional Medical Center. Our Mom, Grandma, Puuk, Auntie, Cousin, Sister is now at peace with the Lord.
Services are under the direction of Malcom's Brower-Wann Funeral Home. The Rev. Dr. Mary Jane Miles will officiate the service.
Service Information
Date & Time

Tuesday, September 14, 10:00 AM

Location

Second Indian Presbyterian Church
Fair Street & Highway 12
Kamiah, Idaho 83536

Get Directions
Offer Condolences