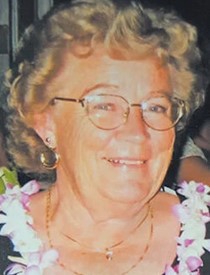 Mary E. Kirk
11/1/1936 — 7/13/2022
It is with a heavy heart that we invite you to join us in the celebration of a life well lived. Born Nov. 1, 1936, in Asotin to John and Myrtle Rivers, Mary Emeline Rivers lived in the Lewiston-Clarkston Valley throughout her lifetime. She was 85 when she passed away at her home Wednesday, July 13, 2022.
Mary was raised in Lewiston and attended Lewiston High School. She was married in 1954 to her high school sweetheart, Marion "Buck" Kirk, for 53 years until his passing in August of 2008. They lived in the Lewiston Orchards area and raised five children.
Raising five children was Mary's main focus in life and she spent countless hours hauling them to school and sporting events, music lessons and 4-H events. She was a 4-H leader and continued support of the county fair after her children were grown by hosting 4-H cattle on their farm. While she hated to fly, she traveled extensively with Buck on cruises, both on domestic and international trips. She loved taking her children snow skiing and enjoyed playing a round of golf. One of her favorite annual events was camping with her family at Priest Lake, Idaho, where she spent more than 40 summers with family and friends.
The majority of Mary's career was spent working for the Lewiston School District at both Sacajawea and Jenifer Junior High School. She loved her work, but retired in 2015 after suffering a major stroke. She was a member of the Lewiston Elks, Lewiston Eagles, Clarkston Moose, Seaport Good Sam's Club and Cranker's Club. She was also a member of the ABWA and served as their secretary/treasurer. She volunteered her time to various causes and organizations, with some of her favorite times at the Nez Perce County Fair.
Earlier in her life, Mary and her family attended the Methodist Church. She was a devoted worshiper, and later in life was proud to be baptized into the Catholic Church. She was involved with many church functions, including volunteering and baking pies for events at St. James Catholic Church in Lewiston.
When she wasn't busy praying for her children, her favorite pastime was playing cards. She belonged to several bridge and pinochle groups and loved to host a good card party. She taught her children the love of cards, as well, starting with ante poker, and spent hours playing 3 to 13 with all her family — including grandchildren and great-grandchildren.
During her final years at home, Mary continued to play cards even up to a few weeks before she passed. While her stroke continued to erode her health, one of her few requests was to be cared for and stay in her own home. With the dedicated help of family, she was able to do so. Mary was grateful for her caregivers and her granddaughter, Stephanie, who lived with her and assisted in her care. The family sincerely appreciates the love and support received from her various caregivers and nurses. A special thank you to Loretta and Taylor for their flexible and countless hours assisting with home care, and to the staff of Kindred Hospice for their heartfelt guidance.
Mary is survived by her five children, 13 grandchildren and four great-grandchildren: Virginia Palm, of Palmer, Alaska, and Barbara (Derik) Mooberry, of Reno, Nev., Kate (Roy) Weber, Michael (Rhonda) Kirk, and Alan (Michelle) Kirk, all of Lewiston. In addition, grandchildren Jeffery Palm and Keith Hammonds, Nicole, Lindsey and Kyle Pastrell, Nicholas, Christopher, and Stephanie Weber, Landon, Cameron and RaeAnn Kirk, and Shawn and Kayla Kirk. Also, her sister Daisy White, of Moscow. She was preceded in death by her parents and two brothers.
Please join us in a celebration of life from 2-5 p.m. July 31 at Lindsay Creek Vineyard, 3107 Powers Ave., in Lewiston. In lieu of flowers, the family prefers donations to be made in Mary's honor to the 4-H Scholarship Fund by mail or in person at 1239 Idaho St., Lewiston.
A private family graveside service will be held at a following date.
Offer Condolences