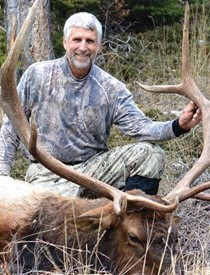 Marvin L. Albright
7/19/1955 — 1/19/2015
Marvin Leroy Albright, our beloved son, husband, father, grandfather, brother and friend, died Monday, Jan. 19, 2015, in Lewiston, surrounded by his family.
Marvin was the first of six children, born July 19, 1955, on a hot summer day to Bill and Carol Albright. He attended St. Stanislaus School and Lewiston High School until the family moved to Mission Creek his senior year. He attended Culdesac High School, where he met the love of his life, Sharon Feucht. After graduating from high school in 1973, Marvin worked with his Grandpa Marvin and Dad Bill at the family business that has been owned and operated since 1946. Marvin and Sharon were married Oct. 19, 1974. They started their family on Mission Creek with the birth of their first son, Marvin, on Feb. 20, 1978, followed by their second son, Mike, born May 11, 1979. They moved to Culdesac, then later moved to Lewiston.
Marvin loved the outdoors. He was a lifetime member of the National Rifle Association and the Rocky Mountain Elk Foundation. Marvin was an avid hunter, golfer, snowmobiler, trap shooter ... anything outdoors. He was known for building and rebuilding anything from snowmobiles to dirt bikes to Jeeps. He especially enjoyed working on, and recently perfecting to his liking, his 1976 CJ7 Jeep. He and Sharon took many Jeep excursions to several beautiful places with some of their lifelong friends and family.
Marvin is survived by his wife of 40 years, Sharon; his mother, Carol; sons and daughters-in-law Marvin, Amy, Mike and Kendra; granddaughters Alyssa, Dilynn, Jordynn, Brylin and Eastyn, all of Lewiston; brothers Wayne (Jill), Dale (Bridget), all of Lewiston, Gene (Becky) of Clarkston, Wes (Pam) of Spokane; and a sister, Jerri (Wade) Canning of Clarkston; numerous nieces and nephews; and many friends and business associates who all loved him dearly.
Marvin was preceded in death by his father, Bill.
A celebration of Marvin's life will be held at 12:30 p.m. Saturday at All Saints Catholic Church.
In lieu of flowers the family suggests memorials be made to Pancreatic Cancer Awareness at www.pancan.org; or the Rocky Mountain Elk Foundation at http://www.rmef.org/; The Willow Center for grieving children at http://willow-center.org/; or any charity of choice.
Service Information
Date & Time

Saturday, January 24, 12:30 PM

Location

All Saints Catholic Church
3330 14th Street
Lewiston, ID 83501

Get Directions
Condolences
Scot & Jill Fuhrman
Our thoughts and prayers are with the family during this difficult time.
Tuesday, February 10, 2015 8:10 PM
Lisa Guzman
Although I never met you or your husband, I have been a friend of your brother, Dan for many years and wanted to tell you how sorry I am for your loss. My heartfelt sorrow goes out to you and your family
Thursday, January 29, 2015 7:04 PM
Fred & Dianna Carpenter
The Carpenter Fence Family was so saddened when we heard about Marv. We've enjoyed working with Marv over the years and we can't imagine the feelings you've had to endure. We are so very sorry and we put everyone in our prayers.
Wednesday, January 28, 2015 4:12 PM
Mike Cunningham
So sorry for your loss. Great man he will be missed.
Wednesday, January 28, 2015 3:14 PM
Dick and Barbara Riggs
We are so sorry for your loss. That darned pancreaatic cancer. You are in our thoughts and prayers. Dick and Barbara Riggs
Monday, January 26, 2015 9:55 AM
Dean Weyen
Marvin was a really great man...a pleasure to work with and to have known. I was soo saddened to read about this and can hardly believe it. Mike, Gene, Wayne, Dale and Sharan ... I'm so sorry for your loss.
Sunday, January 25, 2015 8:01 AM
George Brown Sr
Didn't know Marvin real well, but also enjoyed talking with him at Kauffman bike and snowmobile shop. Sorry for your loss,
Sunday, January 25, 2015 7:47 AM
Gerry and Chris Layes
We are so sorry for your loss. Our thoughts & prayers are with you at this difficult time.
Saturday, January 24, 2015 3:05 PM
Glen and Bonnie Baldwin
we are sorry that Marv has gone home so early.
Saturday, January 24, 2015 10:21 AM
Ted and Charlotte (Mosman) Vollet
Ted and I are so saddened by Marvin's unexpected passing. We wish your whole family God's peace through this extremely trying time, and may you take comfort in each other's love.
Saturday, January 24, 2015 8:47 AM
Jim Pulliam
I am deeply saddened by the loss of such a quality friend. May the lord give you tender mercies during this difficult time.
Saturday, January 24, 2015 8:46 AM
Dave & Tami Biery
Our sincerest thoughts and prayers are with you in this time of loss. A great man, who created many great memories with a wonderful family!
Saturday, January 24, 2015 6:51 AM
Wayne Hattan and Family
Sorry for your loss. Thoughts and prayers sent your way.
Saturday, January 24, 2015 6:09 AM
Offer Condolences