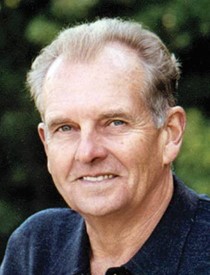 Marvin Lemm
10/11/1944 — 10/8/2017
Marvin Stanley Lemm went to see the Lord on Sunday, Oct. 8, 2017. He passed away due to lung cancer and chronic obstructive pulmonary disease. He was born Oct. 11, 1944, at the White Hospital to Norman and Ruth Lemm. He was 72 when he passed. Marv has a sister, Carol Berkley, who lives in Salem, Ore., with her husband Leon.
Marv was a lifelong resident of the Lewiston-Clarkston Valley. He went through the Lewiston school system, graduating in 1962. In 1964, he joined the Idaho National Guard and served until 1971, receiving the rank of staff sergeant as first cook. In 1969, Marv married his love, Barbara Ann Simpson of Asotin. Together they raised two sons, Matthew Ryan and his wife Allison, of Logan, Utah, and Tyson Lance and his wife Jennifer, of Clarkston. He had four grandchildren, Mikayla, Skylar, Kilee and Cooper.
He made his career in sales with the Lewiston Morning Tribune, working there from 1974 until he retired in 2009. After retirement, he enjoyed working part time for the Lewiston School District as a crossing guard and on lunch duty.
Marv spent many years boating on the Snake River in the summer and steelhead fishing in the fall. During his retirement he enjoyed his coffee at Waffles N' More and at Jeffrey's. One of his favorite things to do was walk his dogs, Maggie and Rudy, on the levee. He was always looking forward to shooting his guns at Diamondback Shooting Range and Lewis Clark Wildlife Shooting Range.
We will be having a celebration of his life at 1 p.m. Saturday at Guardian Angel Homes Barn. Lunch will be provided. In lieu of flowers please send donations to Lewis Clark Shooting Range, 27007 S. Tom Beall Road, Lapwai, ID 83540.
Service Information
Date & Time

Saturday, October 14, 1:00 PM

Location

Gardian Angel Barn
2421 Vineyard Avenue
Lewiston, Idaho 83501

Get Directions
Condolences
Gerald A Hayes
Just heard of the passing of one of my best friends Marv.We shared oh so many memories, it's hard to believe he's gone.I send my love and prayers to you Barb and Mat and Tyson.Wonderful mems.of all.God speed Marv. Rip my friend. Tell we meat again.Good Boating.
Thursday, October 12, 2017 8:51 PM
Doug Barton
I worked with Marv at the LMT back in the late 80's. I always enjoyed our conversations and working with him. What a neat guy. Sorry for your lose.
Thursday, October 12, 2017 10:28 AM
Offer Condolences