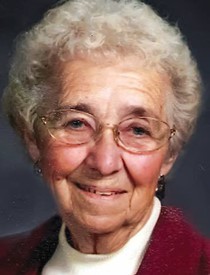 Marie Hasenoehrl
9/27/1927 — 8/20/2017
Marie T. Hasenoehrl passed away Sunday, Aug. 20, 2017, at her Lewiston residence. She was born Sept. 7, 1927, in Greencreek, to John C. and Anastasia Schmidt, the oldest of eight children. She lived in Greencreek until her marriage to Glenn Hasenoehrl on Feb. 19, 1949.
After her marriage, she lived in Fenn, Winona, Grangeville and moved to Craigmont in 1959. She lived in Craigmont until 2004, when her husband passed away and she moved to Lewiston.
Marie was a stay-at-home farm wife until her kids were older. She then served as Craigmont city clerk for 23 years, helping write grants for many community projects. She was a charter member and served 32 years for the Craigmont emergency medical technicians. At home, she crocheted dozens of afghans and made hundreds of butterfly creations. She was always busy serving family and community. Many people have a reason to thank her and remember her for her selfless commitment to everyone she touched. Marie and Glenn enjoyed visiting and traveling with her brothers and sisters, including annual trips to the ocean with her sisters, Margie and Joann. Glenn and Marie could be seen at all the Highland basketball games even after the grandkids graduated.
She is survived by children Helen (Mick) Duman, Larry (Nancy) Hasen and Ed (Patti) Hasenoehrl; grandchildren Tawnya (Kevin) Brooks, Travis Bingman, Katie (Brian) LaBree, Steven (Jessica) Hasen, Justin Hasenoehrl. Jared (April) Hasenoehrl, Amber Hasenoehrl and Alyssa (Martin) Caren; her precious great-grandchildren, Kyler Brooks, Kody Brooks, Kanyian Vigil-Bingman, Leo Hasen, Sydni Hasenoehrl, Madyson Hasenoehrl, Matthew Hasenoehrl, Daely Young and Nolan Caren; and her great-great-grandchild, Baby Brooks, who is due in February; sisters Eleanor Hinkelman, Joann Schmidt and Sister Margie Schmidt; and in-laws Arlene Schmidt, Wayne Hasenoehrl, Helen Arnzen and Sharon Stoltz. She also is survived by her family at Pleasant Valley and her best friend Helen for the past four years.
She was preceded in death by her parents; her husband, Glenn; sisters Bernadine Schmidt and Grace Ann Schmidt; brothers Tom (Alice) Schmidt, and Jim Schmidt; and in-laws Clark Hinkelman, Roy (Theresa) Hasenoehrl, Glenn Stoltz, Alvin Arnzen, and Jack (Deanna) Hasen.
Thank you to all the great people from St. Joseph's Hospice. We couldn't have done it without them. Thank you to the wonderful staff at Pleasant Valley, including Donna, David and Kim.
She was a member of the Catholic Church and St. Mary's Guild. Her funeral will be at 1 p.m. Friday at St. Stanislaus Church, 633 Fifth Ave., Lewiston, and burial will follow at 4 p.m. at the Craigmont Cemetery.
Donations can be made to St. Joseph's Hospice, P.O. Box 719, Lewiston, ID 83501; or Green Apple Project (for autism), 601 Third St. No. 432, Clarkston, WA 99403.
Service Information
Date & Time

Friday, August 25, 1:00 PM

Location

St. Stanislaus Church
633 5th Avenue
Lewiston, Idaho 83501

Get Directions
Offer Condolences