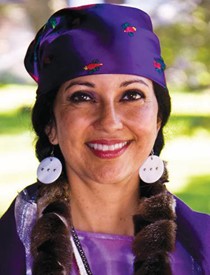 Margo Aragon Herrington
2/20/1959 — 4/2/2018
Margo Aragon Herrington, at age 59, continued her adventurous journey from this life to the next Monday, April 2, 2018. Her death was due to colon cancer.
When she was born in Los Angeles on Feb. 20, 1959, her paternal grandmother, Chole Romero, said, "it was raining and the birds sang in the trees." Her parents, Evelyn Cruz Gomez Aragon and Raul Aragon, spent a few more years in Tinseltown, working and going to school, and then moved back home to Imperial Valley, Calif. The community had many colorful nicknames, and Margo's favorite was "Shake and Bake" because of the many earthquakes and frequent summer temperatures of 120 degrees or higher.
Margo attended local elementary schools and graduated from Central Union High School, home of the Spartans. Due to the fine instruction, leadership and camaraderie, those four years helped shape Margo's interest in modeling, broadcasting, writing, traveling, learning new languages and community service. She attended Imperial Valley College and San Diego State College, but decided to give modeling a serious try before graduating. Although she modeled sporadically throughout San Diego, she moved to Los Angeles to see if she would find more work. While she did print work and modeled for shops, this career didn't fulfill her as much as she hoped. When her family friends retired to Orofino she decided to visit them.
In 1980, she saw the Snake River and Clearwater River drainage for the first time. Right then and there she decided to pack up her things in Los Angeles and move to Idaho. It seemed everything Margo had ever wanted to do happened in Idaho. She graduated from Lewis-Clark State College and immediately attended Bennington College, receiving an Master of Fine Arts in writing. During this time she was also a KLEW-TV broadcaster and host of "Northwest Morning."
In 1997, Margo and Horace Axtell published their book, "A Little Bit of Wisdom: Conversations With a Nez Perce Elder," with Confluence Press and publisher James Hepworth. It was a memoir that transformed the lives of Margo and Horace. Suddenly everyone wanted to meet Horace and Margo and know more about Horace's life. They were invited to speak at events across the country. One memorable occasion resulted in an invitation to meet His Holiness the Dalai Lama in Ketchum, Idaho, in September 2005. Margo, Horace and his wife, Andrea, sang a walasat (Nez Perce traditional belief) song for His Holiness and the audience. Both spiritual leaders also met face to face and "it was a highlight that I will never forget," said Margo. Their collaboration, friendship and kinship (Margo called Horace "toota," which means daddy in the Nez Perce language) continued until his death in 2015. Horace, Andrea and their children became Margo's family.
Horace and Margo also translated the oldest book in the Pacific Northwest, "Nez Perce's First Book: For Children and New Beginners." Margo also wrote for other publications including Idaho Magazine.
Margo also served on the board of several local, state and regional organizations. Additionally, she worked at the University of Idaho Press, Community Action Partnership, Walla Walla Community College and Northwest Indian College.
Horace and Andrea also were responsible for Margo meeting John B. Herrington, the world's first indigenous astronaut. While he was on his cross-country bicycle ride from Cape Flattery, Wash., to Cape Canaveral, Fla., in 2008, John stopped to see his friends and colleagues, Horace and Andrea. Their daughter, Kay, asked Margo to set up some media events and show him around the area. After three days, they fell hopelessly in love. At the end of John's bicycle ride, he proposed to Margo at Cape Canaveral's countdown clock. They were married twice in 2009; once in California and once by Horace in a Nez Perce ceremony in Joseph, Ore.
Margo and John's marriage brought two adventurers together, and their married life was just as exciting as one could imagine. They worked together, met famed lunar astronauts, rafted several rivers in Idaho, Alaska's Arctic, the Grand Canyon, traveled the country and Europe, developed interesting projects, and loved each other more than words could say.
Margo's first two marriages - to Douglas Tyler and Robert E. Kinney - ended in divorce. Her marriage to David G. Sears was a beautiful and happy one. He died in January 2004.
Having a strong spiritual life was important to Margo, and she is forever grateful to Zona and Fred Bowen, and Horace and Andrea Axtell for teaching her and imparting their knowledge to a lifelong learner.
Margo is survived by her dear husband, John; brother Eric (Sacha); siblings-in-law James (Jo) and Jennifer (Mark); several stepchildren; her dear nieces, Diamond and Heaven; and many more nieces and nephews, beloved aunts, uncles and cousins; a sweet grandson, Brogan; the entire Axtell family; and devoted friends and neighbors whose love was shown on a daily basis.
A dressing service will be held at 4 p.m. Thursday at Malcolm's Brower-Wann. A walasat service will be held starting at 7 p.m. in the Pi Nee Waus Community Building in Lapwai. Burial will be the next morning at 8 a.m. Friday at Normal Hill Cemetery. A dinner will follow burial at the Pi Nee Waus Community Building.
A celebration of life will be held at Clarkston's Quality Inn the third weekend in April and in San Diego at a later date.
In Margo's memory, in lieu of flowers, please consider donating to the Selway-Bitterroot Frank Church Foundation (www.selwaybitterroot.org) or the Idaho Humanities Council (www.idahohumanities.org).
Margo dearly loved the mountains of Idaho and supported SBFC's efforts to protect and preserve this pristine environment. Literature and art also were her passion, and telling the stories of Idahoans was one of her greatest pleasures.
Service Information
Date & Time

Friday, April 6, 6:00 AM

Location

Pi-Nee-Waus Community Center
99 Agency Rd.
Lapwai, ID 83540

Get Directions

Additional Details

Dressing ceremony - Thursday, 4:00 p.m., Malcom's Brower-Wann Funeral Home. Memorial service - Thursday, 7:00 p.m., Pi-Nee-Waus
Condolences
SUSANA MARIA ESQUER QUEVEDO
It has been a few years since you've departed this earth. My thoughts and prayers are with you. I never forget your kindness and radiant smile. God bless.
Susana Esquer Quevedo - Shake & Bake Territory
Monday, March 8, 2021 2:06 PM
Carole Merritt
Dear dear MARGO,
I know you can't hear me on this planet but hopefully wherever you are you know we are thinking of you—home too soon.
With love,
Carole & Alvin NYC
Tuesday, July 10, 2018 2:09 PM
Scott and Julie Good
Margo, a job well done, you are truly missed! Only now can you realize the many souls you have touched.
Your Friends -
Scott and Julie Good
Thursday, April 5, 2018 11:12 AM
Kitty Delorey Fleischman
A friend sent me a message today that Margo had passed on, and I am heartbroken. Since we first met, she has made me happy, and she has made me laugh. I love the wisdom she brought to all of us and I send her spirit on its way with love, gratitude, and tremendous respect. —Kitty Delorey Fleischman
Wednesday, April 4, 2018 7:08 PM
Greg Meyer
So many will miss you. I among the many.
Beautiful person, beautiful spirit, friend and colleague. Our journeys together to create stories, from organic farms to the wild rice patties of the St. Joe River to the WSU hospital that heals raptors - and our collaboration on projects such as one to promote health among the Nez Perce people will always be fond memories and warm my heart. Much like your smile.
Farewell friend.
Wednesday, April 4, 2018 5:21 PM
AM
My sincere condolences to your family. May you find comfort in the promise of Rev. 21:4 of a time when death will be no more and loved ones will be reunited.
Wednesday, April 4, 2018 12:18 PM
Offer Condolences