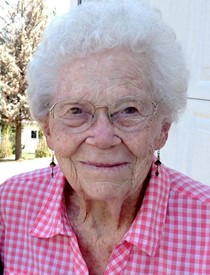 Margaret Silflow
2/24/1925 — 8/20/2020
Margaret Doris Meyer Silflow went home to her Lord on Thursday, Aug. 20, 2020, at Brookdale Assisted Living in Lewiston.
She was born Feb. 24, 1925, the first child of Thelma and Herman Meyer. She grew up on the family farm near Leland with her siblings Dorothy, Hermina, Theodore and Loeda and cousin, Lawrence Abitz. She was confirmed at Cameron Emmanuel Lutheran Church in 1937 and attended school in Leland and Southwick, graduating in Southwick High School's class of 1942. She attended the School of Nursing at Deaconess Hospital in Spokane, graduating as a registered nurse in 1946.
On Sept. 16, 1946, Margie married the neighbor boy, Marvin Frederick Silflow, after his return from service in the army. Margie and Marvin farmed near Kendrick and raised their son, Dale, and daughters, Carolyn, Mariann and Joan. After her children were grown, Margie completed a refresher course in nursing in 1981 and enjoyed a ten-year career as a nurse at St. Joseph's hospital in Lewiston. Following retirement, she served as a hospice volunteer for many years. She moved to Brookdale in the fall of 2019 where she enjoyed reconnecting with longtime friends and family.
Margie loved her life on the farm. She milked cows and raised chickens and turkeys. She maintained a large vegetable garden and orchard, sharing the produce with many. She canned, pickled and preserved the produce she grew, as well as the hard-won treasure from frequent trips to the huckleberry and black-cap patches, trips that she continued into her 90s. At the county fair, she was delighted to win ribbons for her exhibits of garden produce and flowers. Even after moving to town she continued to supervise, ordering the seeds for the 2020 garden.
Margie's house was busy with visitors and often staying for a meal. Later in her life, she liked to refer to her house as "Grand Central Station." She delighted in the relationships she had with children in the family, attending their sports and school events and playing games when they would come to visit.
Cooking for others was one way that Margie showed her love. She was a talented cook, always trying new recipes and generously sharing her knowledge with anyone who wanted to learn. At potluck events she always had something special to share including kringle, cinnamon rolls, creampuffs or honey-baked lentils. Yearly group activities such as butchering, making sauerkraut and Ralston Caramels were highlights for Margie. She was a lifelong devoted member of the Cameron Church. She was an active member of the women's group, sang in the choir and taught Sunday school for many years. She shared her gifts for needlework in preparing items for the annual church bazaar. Margie was a strong supporter of community activities, serving as a 4-H leader when her children were young and enjoying meals at the Senior Citizens Center when she got older. She was Grand Marshall of the 2014 Locust Blossom Festival in Kendrick.
Margie is survived by sisters, Dorothy Schnaible of Moscow, Hermina Meyer and Loeda (Horst) Reil of Kendrick; sister-in-law, Marlene Meyer of Kendrick; children, Dale (Patti) Silflow of Kendrick, Carolyn (Pete Lefebvre) Silflow of Roseville, Minn., Mariann (Ed) Lynch of Kendrick and Joan (Randy) Tiede of Winchester; grandchildren, Brian (Shelby) Silflow, Janel (Sam) Shaw, Matthew (Hannah) Lefebvre, Jerimy (Tammy Olmstead Davis) Chase, Cindy (Aaron) Patterson, Leslie (Nelson) Huddleston and Kristen Tiede; great-grandchildren, Morgan and Cade Silflow, Lydia, Ava and Gwen Shaw, Logan (Josie) and Brooke Chase, Dawson Bedard and Troy, Aubrey and Brayden Patterson. She is also survived by numerous nieces, nephews and cousins from a large tight-knit extended family.
Margie was preceded in death by her parents, Thelma Schmidt Meyer and Herman Meyer; husband, Marvin; brother, Ted; and grandparents, Otelia and Ernest Schmidt and Dorothea and Heinrich Meyer.
A graveside service for Margie is being planned. An event to celebrate her life will be scheduled later. Memorial donations may be given to Cameron Emmanuel Lutheran Church or the Kendrick Senior Citizens Center.
Service Information
Date & Time

Saturday, August 29, 10:00 AM

Location

Cameron Emmanuel Lutheran Cemetery
12633 Cameron Road
Kendrick, Idaho 83537

Get Directions

Additional Details

Please bring your own lawn chair and umbrella.
Offer Condolences