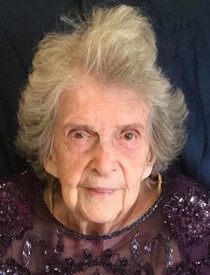 Margaret Longeteig
9/23/1928 — 11/13/2019
Margaret Nell Waters Longeteig lived a long and productive life. She was a writer, researcher, teacher and farmer, dying at age 101 on Nov. 13, 2019, in Lewiston.
She was born Sept. 23, 1918, to Wilfrid W. and Effie M. Jolly Waters, on their farm 7 miles north of Nezperce.
Margaret Nell began her love affair with books at the age of 4. At her own insistence, she was enrolled in a one-room country schoolhouse 2 miles from her home. Her mother took her on horseback that first term, and soon she was riding her own horse by herself. She quickly learned to read and thus began her lifelong devotion to books, history and genealogy.
Graduating from Nezperce High School at the age of 16, she was held back from higher studies for a year by her mother, who said she was too "green." So she and a pal spent most of that year happily on horseback, exploring and scrambling up and down canyon hillsides. "It's a wonder we didn't kill ourselves or our horses," she later recalled.
Happy days followed at the University of Idaho in the Delta Delta Delta house, and graduation came in 1940. "My parents went through considerable sacrifice to send me there during the Depression," she recalled. "I don't think they had a new pair of shoes for four years."
While at the university, she deepened her friendship and love for another farm kid, Iver Longeteig Jr., from nearby Craigmont. They married in 1940, three days after her graduation. Iver first taught school in Plummer, but left shortly after and took up farming with his father in Craigmont.
Margaret Nell had plenty of work at home as their children, Iver J. III, Wilfrid (Bill) and Karen were born in short order. There followed the busy years of raising children and pinch-hitting where needed on the farm. Margaret Nell said, "I married a schoolteacher, but really, life on the farm was what I wanted, so I was well pleased."
She put her education to use by leading 4-H sewing clubs for many years, and then by teaching home economics and English in Kamiah for a year or two. Later, she also taught home economics at Craigmont and Highland high schools.
When the last of her three kids departed for the University of Idaho, she turned her longtime interests of genealogy and local history into an absorbing occupation lasting more than 50 years. First came the family histories, and she thoroughly documented and published the various branches of her own history, the Jolly, Waters and Edwards families, finding some records going back to 17th-century settlers in Salem, Mass., and even farther back in England.
Her daughter's graduating class, the class of 1963, had researched and compiled a senior project history of the three Camas Prairie towns that had just been consolidated into the Highland School District — Winchester, Reubens and Craigmont — titled "The Highlands of Craig Mountain." Margaret Nell helped get it published, and the project so piqued her interest that she determined to do the same for Nezperce, so she gathered stories from pioneers and old Nezperce Herald files and, with friend Rheba Miller, published "Remember When" as a bicentennial year project in 1976.
Meanwhile, there were projects to document the burials in the country cemeteries and creating records of early pioneer graves that were rapidly disappearing into the turf. She often invited small nieces or grandchildren to join in the hunt. "They can crawl under the bushes and read out the names on the headstones, which I couldn't otherwise see. If they couldn't read yet, they at least knew their letters and could call them out to me!"
There followed eight or 10 more books and monographs she either wrote or contributed heavily to — we've all lost count. Her work on Idaho history and genealogy was recognized by the Idaho Historical Society with their "Esto Perpetua" award in 2002.
Ever adventurous, she and Iver traveled extensively. Their first big trip was to Washington, D.C., for Eisenhower's inauguration, combined with a side trip to pre-Castro Cuba. Along with their stateside travels, they visited Indonesia, Paris, Geneva, visited their daughter in India and joined fraternal groups in trips to Taiwan and elsewhere.
Banding together with like-minded history buffs, Margaret Nell was a longtime, active member of the Ilo-Vollmer Historical Society, the Lewis County Historical Society and the Twin Rivers Genealogy Society. Social activity came through membership and leadership in the Eastern Star, Job's Daughters, the Daughters of the American Revolution, the Daughters of the Nile and other organizations. She and husband Iver were recognized for their contributions to the Craigmont community by being named grand marshals of the June Picnic in the early 1990s.
The year of 1994 was a bad one for Margaret Nell, as she lost both husband Iver to Parkinson's and her own eyesight to macular degeneration. She tried not to let sadness or near-blindness slow her down and utilized all the modern technology she could, including TV-camera magnifiers to aid her reading and research. She also caught up on all the travel she had missed while caring for Iver, visiting various parts of the country to see relatives or to take "sister cruises" with her half- and stepsisters. She continued to travel, write and publish into her 90s. We knew she was tired and aging when she stopped listening to books on tape. In preparation for her 100th birthday, her daughter and a family friend compiled her history and lively stories into a book, "Margaret Nell: A Prairie Life," published in 2017.
Of a generous and philanthropic disposition, she donated countless time and money to organizations, causes and to friends in need. At the end of her life, her resources helped establish a family scholarship fund for Native Americans, especially Nez Perce tribal members, at the University of Idaho.
Margaret Nell is survived by her daughter, Karen (Hasan Khan) Longeteig; two daughters-in-law, Beverli Earp Longeteig, of Craigmont, and Linda Chase Longeteig, of Boise; half-sister Cheryl Walsh, of Boise; two stepsisters, Elizabeth Hess, of Nezperce, and Marilyn Marvin, of Portland, Ore.; stepbrother Ronald Wilkes, of Phoenix; seven grandchildren, Halle (Jeff Smith), Andrew (Amy Desrosiers), Lisa (Stan Moolenijzer), Torrey (Jody Rice), Kelli Jo, Ayesha (Fraser Moore) and Zehra; four great-grandchildren, Hunter Bovey, Lane Longeteig, Iver Jay Moolenijzer and Leila Longeteig; and three step-great-grandchildren, Nick, Kathleen and Nathan Rice. Also left to mourn is her devoted caretaker for the past five years, Chantel Kuntz. She was preceded in death by her husband, Iver; daughter Nola; and sons Iver J. and Wilfrid.
A memorial service and celebration of life will be held in the spring at a later date. In lieu of other remembrances, the family suggests that donations in Margaret Nell's name may be made to the charity of your choice; to the Ilo-Vollmer Historical Society in Craigmont; or to the Waters-Longeteig Scholarship Fund, Endowment & Gift Administration, University of Idaho, 875 Perimeter Drive, MS 3201, Moscow, ID 83844.
Offer Condolences