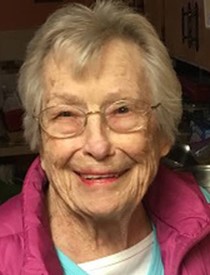 Margaret Dammarell
3/7/1924 — 2/16/2021
Our mom, Margaret Elizabeth Madison Dammarell, passed away on Tuesday, Feb. 16, 2021, of age-related causes. The purest woman we've ever known was welcomed to Heaven while soft, fresh snow fell across the Lewiston-Clarkston Valley. What a wonderful woman she was: her welcoming smile, open arms, bright mind and kindness encompassed everything she did.
She was born March 7, 1924, in Hamer, Idaho, to Chester Charles Madison and Nellie Hodgson Madison. Raised on the family farm, many of her core values were instilled that remained throughout her life. A very strong, independent woman with an adventurous spirit, she graduated from Roberts High School in 1940, studied education at what is now known as Idaho State University in Pocatello, worked with the USO in San Francisco during World War II, then completed her degree at the University of Idaho in 1947. She met her husband, Neil Dammarell, on a blind date following his return from the war, leading to a happy marriage of 70 years until his passing in 2018. Their journey together took them to Mountain Home and Craigmont, finally settling in Lewiston in 1955 where they raised nine children.
Mom never stopped learning and shared her knowledge with her kids, grandkids, great-grandkids, nieces and nephews. Whether it was on a Sunday drive, a camping excursion or a road trip with Neil across 20 states, Mexico and Canada, she could tell you about the flowers, birds, crops and animals, as well as the history of the area. As our family historian, she kept extensive records, which she loved to share.
She had a kind and giving heart with the patience of a Saint, positively impacting every person she met. She demonstrated these qualities as a room mother at Whitman Elementary (for all nine kids), as a 4-H leader for 20 years, as a charter member of PEO Idaho Chapter BL for 54 years holding every officer position and as a member of the Congregational-Presbyterian Church for 53 years. Among her passions were teaching Sunday school, working with Scouts and Job's Daughters. But most importantly, passing on her love of music. She was the neighbor and friend who always showed up with Jell-O and love.
Mom and Dad were longtime members of the Lewiston Golf & Country Club. Mom loved cheering on her kids and grandkids in their activities. Playing bridge, doing crossword puzzles, watching Lawrence Welk, "Jeopardy!," "Wheel of Fortune," strolling the aisles at Albertsons and long scenic drives brought so much joy to her life.
Mom was a devoted wife, mother, sister, sister-in-law, aunt, grandmother and friend. She is survived by her nine children; Monte (Kathy) Dammarell, Susan (Robert) Spain, Christine (Joseph) Crum, Frank Kevin Dammarell, Nancy (Jonathan) Mueller, Jane Watkins, Peggy (Dave) Hamner, Karen (Tony) Orchard and Robert (Miki) Dammarell; sister-in-law, Marian Dammarell; she was surrounded by love from her 26 grandkids, 16 great-grandkids and counting; and nieces and nephews. She was cherished as "Gramma Margy."
She was preceded in death by her parents; her loving husband; sisters, Cora Jane and Maryanne; brothers, Keith, Harry and Harold, as well as their spouses.
As a woman of deep faith, our mother welcomed all. Whether it be our friends, our cousins, neighbors, her caregivers, or the mail carrier, she always smiled and showed kindness, even after a stroke took her voice. She never judged and made everyone feel like part of her family. Her motto, "find one happy each day," rings true to all who knew her.
To the wonderful staff at Preferred Care AFH in Clarkston and Advanced Health Care in Lewiston, a heartfelt thank you for the loving attention you provided our sweet mother. You treated her like family with kindness and dignity.
In honor of Margaret, please consider supporting any of these causes dear to her: Whitman Elementary School, 4-H, PEO Idaho Chapter BL, Juvenile Diabetes Association, Congregational-Presbyterian Church, or the University of Idaho.
A celebration of life will be held at a future date. Our thanks to Malcom's Brower-Wann Funeral Home for their compassion and exceptional service. To share memories of Margaret, please sign the online book of memories on their website.
Condolences
Shannon Asplund Blaine
Our family is sad to say goodbye to your Mom. What a lovely tribute you gave her. We remember her fondly growing up as our 4H leader. It was fun for Mom & her husband to reconnect with your Mom & Dad later in life. Hugs to all our 2nd cousins.
Tuesday, March 2, 2021 6:28 AM
Ben Rash
Sorry I am late. Was sorry to get Margaret passing. She had a goodlife and raised a wonderful family. That included Neal and Ben and Darrel. We all loved her
Monday, March 1, 2021 2:00 PM
Brent Bohman
A very nice lady. She will be missed.
Tuesday, February 23, 2021 9:34 AM
Beth Fitzgerald Atkinson
I am so sorry to hear of the passing of Margaret Dammarel. I have such fond memories of her from my Whitman grade school days with 4-H. She was so organized and enthusiastic for our meetings and outings. She always encouraged us to do our best, coached us on our demonstration speeches, helped us to learn a new sewing technique or talk us through a recipe. I won two baking grand prizes under her supervision, one for cookies and one from banana nut bread. Margaret helped us to gain confidence to try new things, which made life a little less scary as we grew beyond 4-H. Seeing her years later, she was always quick with a smile and hug. Last time I saw her was at Lindsay Creek Winery for a memorial for Brian Larson's mom, I think. Neil was still with her and they looked great. They both made such wonderful contributions to our community and touched so many lives. Quite a legacy to leave to all their kids, grandkids and great-grandkids. They set quite the example and will be greatly missed. Much love to all and God bless.
Monday, February 22, 2021 5:37 PM
Offer Condolences