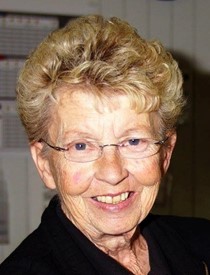 Marga Blair
10/3/1942 — 3/4/2018
Heaven gained another angel Sunday, March 4, 2018, when Marga Helene (Wilken) Blair was called home. She was 75.
Marga was born Oct. 3, 1942, in Lewiston, as an only child to Reinhard and Anna (Reil) Wilken, and started life at the homestead just above the Clearwater River between Pine Creek and Bedrock Creek. In 1947, the family moved a couple of miles north to the farmstead she loved, and she lived there most of her life.
Mom started school at Lapwai because she missed the age limit to attend the Kendrick School District. Her father would drive her and Marilyn Zumhofe to be picked up and dropped off by the bus every day. After the first semester, mom transferred to the Leland School and graduated from Kendrick High School in 1960, the last class of the school on the hill.
After high school, mom attended the University of Idaho for a semester and then moved to San Jose, Calif., where she met the love of her life, John D. Blair. They were married Oct. 29, 1966, and moved to the farm. At that time, mom worked in the billing department of Potlatch Forests Inc., until she and dad adopted the first of three children: Robert, Anna and Chris.
The farm shaped mom into the strong, caring and passionate person she was. We heard stories about hoeing beans and sewing sacks when she was younger, and saw her in action driving tractor during spring and fall work and driving truck during harvest. Her love for driving started early, when she would drive the Allis-Chalmers G tractor to Leland to pick up mail. Mom was proud of the fact that at age 13 she received her driver's license so she could drive grain truck to the Kendrick Rochdale that harvest.
She loved the outdoors and couldn't wait for the weather to warm up to go fishing. She also loved her flowers and garden. Mom was already making plans for this year's seed purchase. Every year she was always canning fruit and produce and making different "juices." She loved to pick raspberries, blackberries and huckleberries, and there was no one who could pick them faster than her. She was well known for her Christmas packages containing the fruits of her labors.
Mom was active in the community in many different ways. She did substitute teaching at the elementary school, taught Sunday school and Bible school, was an EMT, was very active in the KHS Booster Club, was a 4-H leader, helped with Junior Miss, was scorekeeper for many different grade school and high school teams, and always made treats for each of her children's grade school classes.
Now let's talk about sports: Mom loved to watch sports. She could always be spotted in the bleachers, especially at district and state tournament time, wearing the respective number of each child or grandchild. Basketball was the main sport she loved to watch. She watched her children and grandchildren play at AAU tournaments in Yakima, to state tournaments in Moscow, Twin Falls and the Boise area. Mom loved to reminisce about all of the district and state trophies her "Blair Team" had for basketball, football, baseball and volleyball. During the offseason, mom enjoyed traveling and going to events with her family.
There also was a very creative side to mom. Many neighbors around the Leland area probably remember the green water tank with a yellow dog painted on the back of it. She learned how to facet gemstones, did great work with stained glass, did embroidery and crocheting, sewed costumes and clothes for her family, did leatherwork, baked and decorated cakes, and loved to do flower arrangements.
John's passing away was very hard on her and she started working again as a clerk at the Clarkston Albertsons. She enjoyed her time there and loved talking to customers. There were many friends of the family and special customers who would make a point to go through her line to see how she was doing or catch up on her family's endeavors. Mom also made very good friends at the store and loved her time going to dinners or traveling with them.
Marga is survived by her sons, Robert Blair (Rhonda), of Kendrick, and Chris Blair (Deanna), of Carlsbad, N.M.; daughter Anna Eiselein (Kai), of Moscow; grandsons Dillon Blair, Logan Blair and Hunter Evenson; granddaughters Katie (Ian) Ripley and Rose Blair; and two great-grandchildren, Aaron and Amelia. She was preceded in death by her parents and her husband.
A viewing will be held from 11 a.m. to 3 p.m. Friday at Malcom's Brower-Wann Funeral Home, 1711 18th St., Lewiston. A memorial service will be held at 11 a.m. Saturday at the Cameron Emmanuel Lutheran Church, 12633 Cameron Road, Kendrick, followed by a graveside service. The Rev. Craig Groseclose will officiate. Malcom's Brower-Wann is in charge of arrangements.
The family suggests that in lieu of flowers, memorials be made to the JK7 Education Foundation, the KJ Ambulance Fund, or the Cameron Emmanuel Lutheran Church.
Service Information
Date & Time

Saturday, March 10, 11:00 AM

Location

Cameron Emmanuel Lutheran Church

Cameron, Idaho 0

Get Directions

Additional Details

Viewing will take place Friday, March 9, from 11:00 a.m. until 3:00 p.m. at Malcom's Brower-Wann Funeral Home of Lewiston.
Condolences
Julie and John Wedin
All the Blair Family is in our thoughts and prayers.
Marga was a true gem. What a pleasure to be her neighbor.
Wednesday, March 7, 2018 10:37 AM
Offer Condolences