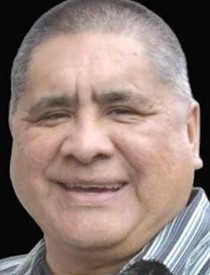 Marc Whitman
2/28/1960 — 3/28/2023
Marc Antony Whitman was born Feb. 28, 1960, to Carmen Payne and Silas Whitman, both of Lapwai. Marc entered into rest on Tuesday, March 28, 2023. He leaves behind a daughter, a large family full of siblings, cousins, nieces, nephews, aunties and uncles – along with an entire community of people who enjoyed and loved his company and conversation.
Marc lived a life of nonstop witty and boisterous humor. Known famously as "Lips" or "Lippy," Marc's presence was one of lasting camaraderie, friendship and teamwork. He was given the Nez Perce name "Chewatotya" as an adult. He began working for the Nez Perce Tribe in the 1980s as a seasonal employee before working his way into roles with the tribe's Department of Fisheries Resource Management as a fisheries aide, a production assistant and various technician classifications. He later transitioned into maintenance work for the Nez Perce Tribe. He served as a dedicated and proud employee for over 25 years.
Marc was a lifelong basketball player, but also enjoyed playing golf, baseball and softball. He loved playing in tournaments around the country in all these sports. Marc has always shared with his family that his greatest pride was having a daughter, Gabriella Whitman. "Gabby" became the new light in his life and currently lives in Clarkston. Marc was a storyteller and loved to entertain people with recounts of situations he found amusing about his close friends or family members. His gift was to find the humor in ordinary occurrences and the meaning and lessons of more trying times. Marc seemed to have an inside joke with almost everyone he knew. He spent time growing up in Boise and Moscow and graduated from Lapwai High School.
Marc's laughter will be missed by all who knew and loved him. He is survived by his daughter Gabriella; parents Carmen Payne and Silas Whitman; siblings Ermie Whitman, Yvette Whitman, Trisha Whitman, Suzanne McAtty, Koni Kinkaid, Braden Parker, Jonelle Yearout, Ezra Whitman and Roberta Whitman. He is preceded in death by his sister Letitia H. Whitman; grandmother Nellie Ezekiel Gray; grandfather Caleb "Tony" Whitman; grandmother Ermith Cloud and grandfather Paul Payne Sr.
Open denomination and Walàhsat services were held on Thursday, March 30, in Lapwai. A Final 7 Nez Perce Longhouse service, and burial, took place on Friday, March 31. Marc is buried at the Spalding Cemetery.
Offer Condolences