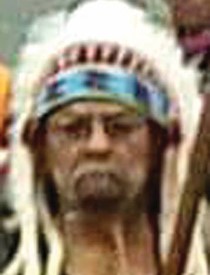 Manuel Villalobos
12/7/1947 — 12/7/2017
Manuel "Manny" Phillip Villalobos Jr., a warrior, veteran and strong Nimiipuu of the banks of the Clearwater River in Cherry Lane, passed away surrounded by his loved ones Thursday, Dec. 7, 2017, after courageously battling health complications.
He was born Dec. 7, 1947, in Seattle, to Ermith Cloud and Manuel Villalobos Sr.
Growing up, he attended Lapwai High School (class of 1967), while later attending school in Concho, Okla. At age 15, he was among one of the first groups of young artists to attend the Wallowa County Educational Camp held by Alvin Josephy and family.
He was drafted into the U.S. Army, 25th VAN BN, on Feb. 16, 1967, at age 19. He served two tours as a pathfinder in the Vietnam War, and later re-enlisted into the U.S. Navy, U.S.A. RAMSEY (DEG-2). His service as a combat veteran during Vietnam was defining for him; he was a fearless and brave Nimiipuu hamaa.
Manny was one of the original founding members of the Combat Vets Motorcycle Association (CVMA), Chapter 13-3. The group includes veterans, with membership growing to 54 members. The bond of brotherhood played a very important part of his life. One of the highlights of his life was participating in local CVMA rides to support charitable causes like the annual Toys for Tots run, as well as various state and national meets.
Manny was known to be a hard worker and took pride in the work he did. He worked for Lockheed Shipping Yards in Seattle, and spent 10 years in Portland, Ore., working for Precision Cast Parts. Upon returning home to the Nez Perce Reservation, he worked for the Potlatch Corp. pulp mill in Lewiston until he began his final career with the Nez Perce Tribe Department of Fisheries Resource Management. He became one of the longest-serving employees for fisheries, starting in 1983 and only recently retiring in October because of health concerns. In addition to being a proud Nimiipuu fisherman, he was dedicated to his work and was passionate about the preservation and protection of salmon.
Manny was married to the love of his life, Bobbi Ann, for 23 years. They enjoyed traveling together, going as far as Hawaii. He also enjoyed their long-weekend trips and rides with their CVMA family. Manny was a great father and loved each and every one of his children.
He was preceded in death by his parents, Ermith Cloud and Manuel Phillip Villalobos Sr.; his brother, Jaime Villalobos; and grandson Anthony "Charlie-Bear" Charles Kuechmann Jr.
He is survived by his wife, Bobbi Ann; sons Jaime Christopher (Serena) Villalobos of Camarillo, Calif., and Manuel Phillip Villalobos III, of Lenore; daughter LaSaundra Sue (Anthony) Villalobos-Kuechmann of Kalispell, Mont.; stepchildren Cameron and Becky Lozon of Lewiston, and Juanito Hudson of Boise; sisters Carmen Payne, Vesta Villalobos, Suzie Villalobos, Dulce Villalobos and Cara Mia Villalobos; grandchildren Austin, Thunder Cloud, Sarah, Tierra, Logan, Mercedes, Diamond, Aurora, Akazia, Izzabella and Tristin; great-grandson Grayson Moon; as well as numerous nieces and nephews.
Manny was the patriarch of his family and he will be greatly missed by his friends and loved ones.
A celebration of life for Manuel will be held at 10 a.m. Saturday at the Pi-Nee-Waus Community Center, Main Street South, Lapwai. A color guard ceremony and 21-gun salute will follow at noon at Spalding Cemetery. Dinner will follow at the Pi-Nee-Waus Community Center.
Malcom's Brower-Wann Funeral Home is caring for the family.
Service Information
Date & Time

Saturday, December 16, 10:00 AM

Location

Pi-Nee-Waus Community Center
99 Agency Rd.
Lapwai, ID 83540

Get Directions
Condolences
Dennis W Ohrtman
Love and prayers to your, Vesta
Thursday, December 21, 2017 1:11 AM
Offer Condolences