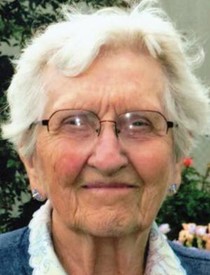 Lydia Bly
11/30/1925 — 4/14/2018
Lydia Bly, age 92, went to be with the Lord on Wednesday, March 14, 2018.
Her father passed away in 1939, leaving her mother to rear Lydia and her three brothers and two sisters. The family lived in Stites, where she graduated from Stites High School with the class of 1944, and thereafter, the family moved to Normal Hill in Lewiston.
She and Sam I. Bly were married June 12, 1948, in Coeur d'Alene. They made their home in the Lewiston Orchards. Together they raised four children, Cheryl, Sam Jr., Tom and Tony. They celebrated their golden wedding anniversary before Sam's passing.
Lydia earned a Bachelor of Arts degree from Lewis-Clark State College in 1951, and a master's degree in education from the University of Idaho in 1967.
She began her teaching career at Woodland Elementary near Kamiah for the 1947-48 school year. After the birth of her daughter, Lydia, she taught at Lapwai Elementary for a few years and then took an extended break to raise her family at home. In February 1963, she resumed teaching at Grantham (Poplar) Elementary in Clarkston and retired in 1985.
She was a devout Christian and regularly attended services at Abundant Life Church in Clarkston. Her passion was gardening, where she planted and tended a wide variety of vegetables and flowers; though she loved her daffodils and sunflowers, irises were her favorite.
Lydia was preceded in death by her parents; her husband; four brothers, William, Junior Lee, Noland and Sylvester; and sister Emogean.
She is survived by her sister, Sadie Talley, of Yakima; daughter Cheryl (Steve) Welty of Corvallis, Mont.; and sons Sam Jr. of Spokane Valley, Tom (Patty) of Clarkston and Tony (Michele) of Spokane. She also is survived by five grandchildren, Samantha, Stormy, Jamie, Jennifer Lynn and Joe; and eight great-grandchildren, Kaitlin, Kayden, Mischa, Peyton, Madeline, Sam, Jeshua and Jamin.
A private graveside service for family will be held at Vineland Cemetery in Clarkston.
Condolences
Kennedy
I would like to offer my sincere condolences for your loss. May the support of loved ones and God's promise to soon bring a permanent end to death comfort your hearts in the time to come. (Revelation 21:4)
Tuesday, April 17, 2018 5:57 PM
Offer Condolences