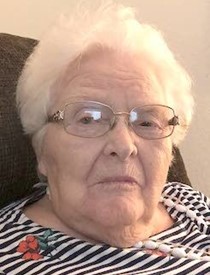 Lucille Pate
4/11/2021 — 4/5/2021
Lucile M. Pate passed away peacefully Monday, April 5, 2021, in Lewiston.
She was born Oct. 4, 1922, in Bismark, N.D., to Willard and Gretta Porter. Her family farmed in North Dakota until 1935, when the Dust Bowl forced them to move to Nampa to join other family members. Lucile graduated from Nampa Senior High School in 1940 and, after attending business college, she began a lifelong career working for Idaho First National Bank in 1942.
Lucile met Army Air Corp Sergeant Curtis R. Pate, who was stationed at Gowen Field, at a dance in Boise. They were married in Nampa in 1945. Following the war, they made their home in Nampa and welcomed two daughters, Madlynn and Sue. They enjoyed gardening, canning, camping and family road trips. In 1969, they moved to Lewiston, where Lucile continued her career with Idaho First National Bank. She retired as assistant manger of the Orchards office in 1983. Lucile was active in the First Baptist Church, where she sang in the choir and served as secretary, Eastern Star and Altrusa.
After her retirement, she and Curtis enjoyed spending time at their cabin in Helmer and traveling. Curtis passed away in 1999 and Lucile continued to live independently in her home, with the help of her amazing neighbors, her dogs, several neighborhood cats and her roses. In 2018, she moved to Golden Girls Residential Care, where she liked to read, play bingo and enjoy the company of the other residents and staff. Lucile will be remembered for her work ethic, independence (stubbornness), love of animals, roses and her cookies.
Lucile is survived by daughter Sue and son-in-law Jon Griffin, of Asotin; daughter Madlynn Kirkland, of Palm Desert, Calif.; granddaughters Morgan Griffin and Melissa Anderson; and two great-grandchildren, Sarah Lucile and Tyler James Anderson, all of Juneau, Alaska.
The family would like to express their sincere gratitude to Pat, Michelle and Lucas Fowler and the staff of Golden Girls Residential Care for their loving care of Lucile during her last three years. Finding them for Lucile was a true blessing.
In lieu of flowers, the family requests that donations be made to the Lewis Clark Animal Shelter. Lucile's last dog, Mollie, was a rescue from Lewis Clark Animal Shelter and Lucile often referred to Mollie as her best friend.
Offer Condolences