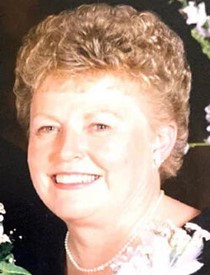 Louvette Thiessen
11/28/1941 — 7/12/2023
On Wednesday, July 12, 2023, Louvette Thiessen, beloved wife, mother, grandmother and dear friend passed away after a short bout with leukemia. She was 81 years old and continued to kindly boss her family around until shortly before her death. Born to Robert and Marjorie Utter on Nov. 28, 1941, Louvette was the eldest of four children.
She attended teaching school at Lewiston Normal School and obtained her teaching degree in two years. She married Merle Thiessen in Dec. of 1962, and in addition to her teaching career at Tammany Elementary School, she became a farm wife, cooking noon meals and dinner for the farm crew in Tammany. She would make everyone's favorite pie and continued to spoil everyone with her cooking and baking skills until the present time.
In 1964 Merle and Louvette welcomed their first daughter, Melissa, and in 1967 a second daughter, Terri. Louvette stayed home with her daughters. In 1972, Louvette returned to work at Tammany School in various positions from teachers aides to Chapter II Director. She worked for the school until it was annexed into the Lewiston School District in the 1990s.
In addition to being a mother, teaching and cooking, Louvette was also a member of the Tammany Pollyanna Club, Square Devils Square Dancers, taught cooking to local 4-H members, board director and regular driver for the Valley Meals on Wheels, member of the Good Sam Club and card-club member. Card club was usually an excuse for her and her girlfriends to get together, go to dinner and talk about the latest for an evening each month.
In addition to all of the clubs she belonged to, Louvette was an avid reader who was happy to share her books with anyone who wanted to read them; the only ones she ever wanted returned were written by her favorite author Karen Kingsbury. She also enjoyed shopping trips to Spokane, where no shoe at Nordstrom was ever safe. For a few years, Louvette was also a season ticket holder to the Broadway shows that she shared with those close to her.
Merle and Louvette enjoyed traveling later in life, taking their fifth-wheel camper on many cross-country trips, including a 90-day trip across the country, through the south and to see the fall colors; to Alaska on the Al-Can Highway, to Minnesota via Yellowstone, the Black Hills and Badlands and multiple winters spent in Mesa, Ariz. They also enjoyed trips to Hawaii, Disney World and took a cruise to Alaska. Louvette shared that there were only eight states she hadn't visited.
Louvette was preceded in death by her parents Robert and Marjorie Utter. She is survived by her husband Merle Thiessen, siblings Bruce Utter, Dawn Hill, Rick (Kathy) Utter, daughters Melissa Sander and Terri (Jerrod) Spriet, granddaughters Becky (Derek) Finnell, Shelby (Leiden) Cook, Sami Spriet and great-granddaughters Laramie and Dally Finnell.
A graveside service will be held on Monday, July 24, at Normal Hill Cemetery. In lieu of flowers, donations can be made to the Lewiston-Clarkston Valley Meals on Wheels at P.O. Box 1711, Lewiston, ID 83501.
Service Information
Date & Time

Monday, July 24, 12:00 AM

Location

Normal Hill Cemetery
1122 7th Street
Lewiston, Idaho 83501

Get Directions
Condolences
Jack & Julie Howard
So sorry to hear about Louvette. Didn't know she was having that much trouble.
Thursday, July 20, 2023 1:46 PM
Offer Condolences