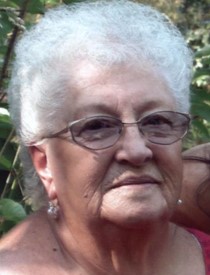 Lorraine Gustafson-Arbogast
5/9/1937 — 8/25/2019
Lorraine June Gustafson-Arbogast, 82, surrounded by her family, returned to her heavenly home Sunday, Aug. 25, 2019, at St. Joseph Regional Medical Center in Lewiston. Her devotion to her family and her belief in God supported her in her final struggle and ultimately brought her peace.
Lorraine was born May 9, 1937, to the late Robert and Blanche Clemenhagen in Kendrick. She was immersed in the local Christian community, which provided lifelong support from an early age. Lorraine graduated from Kendrick High School in 1955 and worked throughout the area until she discovered her love of cosmetology, which led to her becoming a small-business owner and eventually retiring from the profession. She cherished the opportunity to visit with friends while helping them to look and feel their best.
In 1959, Lorraine welcomed a beautiful little girl named Debra into the world. She then married Walter Anderson in 1961, and she was then blessed in raising two more kids, Rick and Connie, in Kendrick before they divorced.
Lorraine met her love, Herb Gustafson, and remarried in 1968, adding another baby girl, Brenda, to their already loving family. Lorraine and Herb adopted their granddaughter, Brandi, and raised all five kids with the patience, humility, discipline and most of all love, which they will carry on in their own families. Lorraine enjoyed the outdoors and spending time camping with her family, showing them the natural beauty that God had blessed the world with. Her favorite activity was studying the word of God and passing along his teachings to her family through her love, mentorship and faith.
Lorraine is survived by her children, Debra Biggers, Rick (Billie) Anderson, Connie Anderson, Brenda Arnett and Brandi Brown; and her grandchildren, Corey Meyer, Catlin (Jaclyn) Biggers, Dakota (Adolfo) Ascencio, Tyler (Alysha) Smith, Austin (Dawn) Smith, Coltyn Campbell, Cody Pangle, Marissa Brown, Hunter Brown, Brooklyn Brown, Tarra Rivas, Alisa Degrasiano and Amanda Jenson. Lorraine was also blessed with 20 great-grandchildren, whom she adored very much.
Her life was a living example of her favorite Bible verse, Ephesians 4:32, "And be kind and compassionate to one another, forgiving one another, just as God also forgave you in Christ."
Lorraine will be honored with a service at 11 a.m. Thursday at the House of Faith, 2502 16th Ave., Lewiston. A graveside service will follow at the Wild Rose Cemetery north of Kendrick. A covered-dish celebration of life will follow at 4 p.m. at Hereth Park in Lewiston.
Service Information
Date & Time

Thursday, August 29, 11:00 AM

Location

House of Faith
2502 16th Avenue
Lewiston, Idaho 83501

Get Directions
Offer Condolences