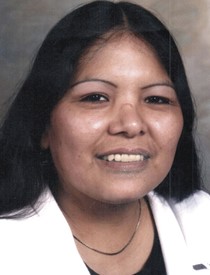 Lorena (Finny) James
7/15/1959 — 3/20/2018
Lorena Ida James "Finny", 58, of Lapwai, passed away Tuesday, March 20, 2018, at St. Joseph Regional Medical Center in Lewiston. Lorena was born July 15, 1959, to Leila Moore and Delbert James and was a member of the Nez Perce Tribe. She attended Lapwai High School and was a proud member of the class of 1977.
From the day Lorena blessed this Earth, she created a legacy, becoming a nurturing soul. She was petite in demeanor, but exuberant in personality. Through her presence she was beloved and cherished by all.
One of Finny's many talents was becoming a certified nurse's assistant, home health provider and bringing joy to many people through her food. She was a cherished mother, courageous auntie, adored sister and devoted grandmother. Above all she was an intelligent, radiant and vivacious person who loved life and her New England Patriots.
Her smile was enough to bring joy to her family and friends, and rarely did you find her without. She was always appreciated and looked up to by so many. It's almost certain that most who knew and loved her could tell a story or two on how Finny impacted their lives and had laughs and cries throughout which we know will be missed.
She always captured the treasured moments through her love of photography. You never found her without her disposable camera and zest for life. Finny loved her cruises along the river and to the mountains. The impact that she had on people's lives were always unique and everlasting. The comfort that she brought was a blessing to so many when they needed it the most.
She is survived by her children, Monique, Lenise, D. Daniel George of Wapato, Wash., John Mesteth of Portland, Ore., Arland Scott, Matthew Enick and Stephanie George of Lapwai; three siblings, Shawna Crane of Pendleton, Ore., Bobette Billow of Lapwai and Jody Allen of Pendleton; 10 grandchildren and many nieces and nephews.
Seven Drums will be begin at 7 p.m. Friday at the Pi Nee Waus Community Center, and will last through Saturday morning. Burial will follow the funeral at the tribal cemetery. Steve Axtell will officiate the service.
From the family: Thank you all for loving our Finny.
Service Information
Date & Time

Saturday, March 24, 6:00 AM

Location

Pi-Nee-Waus Community Center
99 Agency Rd.
Lapwai, ID 83540

Get Directions

Additional Details

Memorial services will be held Friday, March 23, at 7:00 p.m. at the Pi-Nee-Waus. Funeral services will be at sunrise, Saturday, March 24 with burial to follow at Lapwai Tribal Cemetery.
Condolences
D. Harris
Dear Family, I am so sorry to hear of the loss of your dear loved one and send you my sincere condolences. May you find comfort from God's word at Revelation 21:3,4 and John 5:28,29. Heartfelt prayers are with you during this difficult time.
Friday, March 30, 2018 2:37 PM
Offer Condolences