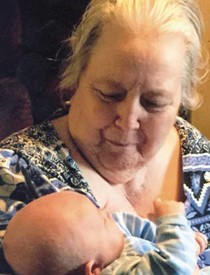 Lola Coffland
6/14/1942 — 7/16/2018
Lola M. Gibbs Coffland, born in 1942, passed away at age 76 Monday, July 16, 2018. Daughter of Ellis and Goldie Gibbs of Culdesac, she was the youngest of four siblings.
Lola was preceded in death by her parents and siblings Maxine Halsey, Nancy Grant and John Gibbs. She is survived by her husband, Gary Coffland; their four children and two honorary children, Diane Coffland, Molly (Dan) Tucker, Ron (Laura) Coffland, Amy (Andy) Rosch, and Randy and Dorothea Skalicky. She also has five grandchildren, one great-grandchild and three honorary grandchildren - Brianna Coffland, Brooke Coffland, Jolyn Dugdale and her son, Kieran Posey, Logan Tucker, Sam Tucker, and Randy Skalicky Jr., Shyann (Peyton) Rinehart and Jordyn Skalicky.
Lola's passion in life was serving the Lord and taking care of her family. She also had a great desire and much love for taking care of children. Lola helped raise neighbor kids, foster kids, children of friends and family - approximately 15 in total. Because of her love for children, her family grew with each child she watched over. It goes without saying she will be greatly missed by many, both young and old.
A celebration of life will be held from 4 to 5:30 p.m. Aug. 5, at 3410 Ninth St., in Lewiston. Family and friends are all welcome.
Offer Condolences