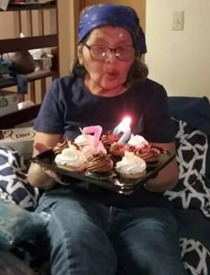 Linda Kathleen Watters
7/4/1948 — 5/27/2022
Linda "Stix" Kathleen Watters, (73), of Lapwai, Idaho passed away on May 27th, 2022.
Private dressing on Tuesday May 31st at 2:00pm at Malcom's Brower-Wann in Lewiston, Idaho with Wahlusut services to follow at 7:00pm at the Old Longhouse. Sunrise services Wednesday June 1st, 2022 at 7:00am with burial following at the Spaulding Cemetery and dinner at the Old Longhouse.
Linda was born in Cottonwood, Idaho on July 4th 1948. She attended Chilocco Indian School in Oklahoma but returned to graduate from Lapwai High School and went on to work for her tribe in various positions within NiiMiiPuu Health.
Linda was married to Wesley D. Johnson on December 16th, 2006; though their official marriage was short, Linda and Wes had been together since 1986 sharing 20 years together.
Linda started as a receptionist with Nez Perce tribe then moved on to work at NiiMiiPuu Health with Maternal Child Heatlh, Community Wellness, and then the Medical records department, from which she retired in the mid-nineties. Linda loved bein gout and about, socializing with family and friends. Linda enjoyed gambling; both at the casino and on the stickgame trail. Linda and her husband Wes loved taking the grandkids out to pick huckleberries, go fishing, and sometimes just cruising in the mountains. Linda opened her home up to not only her nieces and nephews looking to torture her while they recovered from long nights of fun but to her grandchildfren as they cam along as well. Introducing them to her love of maplenut icecream, pepsi, and movies.
Linda is survived by her grandchildren; Paul Williams, Samantha Smith, Kiyana Ellenwood, Aaron Alfrey, Harley Ellenwood, Samuel Ellenwood, Chaos Ellenwood, Abigail Ellenwood, Emily Delaney, Curry Pinkham, Martin Hernandez, Teata Ellenwood, Wilbur Oatman, Eva Oatman, Emilee Delgado, Brother Frank Broncheau Sr., Sisters, Charlotte Watters, Benita Watters, Dee Broncheau, Yvonne Williams, Children; Mary Ellenwood, Samuel Ellenwood,  Rachel H. Ellenwood, Five great-grandchildren as well as many nieces, nephews extended family, and friends who loved her dearly.
Linda is preceded in death by her husband Wesley D. Johnson, parents Dora and Gordon Watters, Sons; Lee Ellenwood Jr. and Jason Daniels, sisters; Sandy Watters, Carol Watters, Alfreida Watters, Bonnie Watters and brother Douglas Watters.
Offer Condolences