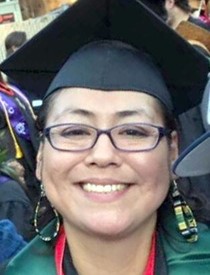 Letitia Whitman
3/11/1980 — 5/4/2021
"In our Father's camp are many campsites. If it were not so I would have told you. I go now to prepare your camping place. And if I go and prepare a place for you, I will come again and receive you to myself with open arms! So that where I am you will also be." — John 14
Letitia H. Whitman, "Tish," an enrolled Nez Perce tribal member, passed away Tuesday, May 4, 2021.
Her Indian name was hemene atwai, which means old lady wolf. The power of her name came to life when she encountered an alpha female wolf at the tribal recovery compound many years ago. The wolf went directly to her and licked her face. She lived her life in close connection with nature and had a beautiful spirit that conveyed profound love and strength to everyone.
Tish was born March 11, 1980, to Silas C. Whitman and Carla J. Kauffman in Lewiston. Before settling in Lapwai, she also lived in Auburn, Wash., Whidby Island, Wash., and Fall Church, Va.
She was one of 13 children, so she had many older siblings to help raise her and younger siblings to play with (and occasionally fight with). They spent a lot of time on the river either fishing or swimming, and in the mountains camping or picking huckleberries with their extended family. This experience led to her have a lifelong appreciation of the land and fish.
As a child, she was a tomboy. Tish spent many hours playing basketball at the elementary courts. She also loved to ride horses, especially with her friends who formed the "Three Amigos." Jingle dress dancing was also one of her talents.
She graduated from Lapwai High School in 1998. She was active in Indian Club. In 2019, she received her Bachelor of Science degree in native environmental science at Northwest Indian College — a feat she accomplished as an honors student while still working full time.
She was one of the youngest high school interns at Nez Perce Fisheries, which led to her career for the next 20-plus years with this department. Tish started in Conservation Enforcement before moving to Production. Her co-workers recognize her as a gracious and hard worker who was always willing to help where needed. She was invaluable to the Production team because she was very adept at office, fish culture and field duties. She was always sought-after on spawn day for coho at the hatchery because she did the best, most careful job in collecting eggs from the female salmon. With a cheerful attitude, she would work hard in her office one day and then put on rain gear and waders the next day to work long hours in cold water without complaint. She also helped hand out salmon to tribal families for subsistence distribution. The Nez Perce Tribe recognized her as "Employee of the Month" in February 2016 and May 2020.
Tish's greatest legacy are her four sons, Cobi Bisbee, Darek Whitman, Arlen Whitman and Seth Whitman, and her grandson, Gabriel Bisbee. Her house was always a welcome place to all children, including her son's friends and her nieces and nephews, who considered her to be their second mom. Her sons say their mom was a fun and happy person who had a hard time saying no and was strong for "putting up with four boys." They learned from her the importance of being welcoming, kind, loving and hard working. Her love for her dogs, Bruno and Bernard, was also well known.
Her boys will cherish the memories of their time cruising the backroads and camping, especially at Talmaks, Joseph Days, Lochsa River and Selway River. Tish often watched scary movies with them while also enjoying binge watching the Lifetime Movie Network. She loved to spend as much time with her grandson as possible, so she would often drive to Kamiah to pick him up. Tish was a great cook who was famous for her spaghetti, fry bread and chip sandwiches.
Tish was part of the Rock Creek Longhouse and also was baptized Catholic. She stayed active in root digging as an adult and attended the root feast in Kooskia every year. Recently, Tish experienced the power of prayer, songs and went back to the sweathouse. She requested a Bible from her aunt and was participating in recovery activities. Her family was inspired by her strength as she dealt with a lot but kept going. She enjoyed spending Thanksgiving in Nespelem with her mom and stepdad.
She is survived by sons Cobi Bisbee, Darek Whitman, Arlen Whitman and Seth Whitman, of Lapwai; grandson Gabriel Bisbee, of Kamiah; father Silas Whitman, of Lapwai; mother Carla (Bill) Timentwa, of Nespelem, Wash.; stepfather Gordon Higheagle Sr., of Lapwai; siblings Marc Whitman, Ermie Whitman, Yvette Whitman, Trish Whitman, Jonelle Yearout, Roberta Whitman, Jasmine Higheagle and Teresa Leighton, of Lapwai; Tyler Higheagle, of Genesee; Ezra Whitman, of Portland, Ore.; Zoe Higheagle Strong and Gordon Higheagle Jr., of Seattle; Koni Kincaid, of Tri-Cities; Montia Raboin, of Pendleton; and aunts Lilly Kauffman, of Kamiah, JoAnn Kauffman, of Spokane, Hattie Kauffman-Grant, of Cle Elum, Wash., Carlotta Panek, of Plains, Mont., and Claudia Kauffman, of Renton, Wash.
She was preceded in death by her maternal grandparents, John and Josephine Kauffman, paternal grandmothers Nellie Ezekiel Gray and Louise Higheagle, uncle John Kauffman, and aunt Jan Van Pelt.
There will be a private dressing and viewing today at Malcom's Brower-Wann Funeral Home. Public viewing will be 5-7 p.m. at the Nez Perce Longhouse near Spalding. This will be followed by a nondenominational memorial service and then Wahlusut service.
On Saturday, the final Wahlusut songs will be completed prior to burial at the Meadow Creek Cemetery in Ferdinand. Dinner will follow at the Longhouse.
Offer Condolences