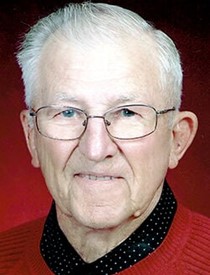 Leonard Lee O'Brien
8/25/1926 — 4/25/2022
Our beloved Leonard Lee O'Brien slipped away into the arms of his heavenly Father after a short battle with cancer and other complications on Monday, April 25, 2022, surrounded by his loving family.
Leonard was born on Aug. 25, 1926, in Winchester to Ray and Marie O'Brien of rural Reubens. He attended the Baker country school through eighth grade, where he was the only student in his class. He graduated from Reubens High School in 1944.
After graduation, Leonard was drafted into the U.S. Army. He served in the Philippines and Japan. He was awarded the Southern Asian Pacific medal, Battle Star medal and the Good Conduct medal.
Upon his discharge in 1946, Leonard returned home to assist his father on the family farm. On Aug. 4, 1951, Leonard married Lenora Irene Rice. Their daughter, Patty, was born in 1967.
Leonard was a dedicated farmer who enjoyed his work and strongly advocated for soil and water conservation. He was named Outstanding Supervisor of the Nez Perce Soil and Water Conservation District from 1967-74. In 1984, he was named Conservation Farmer of the Year by the Nez Perce Soil and Water Conservation. In 1984, Leonard was named Father of the Year at Highland High School in Craigmont after being nominated by his daughter Patty.
Although he left farming in 1985, he and Lenora lived on the family farm until they moved to Lewiston in 1995. Lenora passed away in 2001, just shy of their 50th wedding anniversary.
On Jan. 4, 2003, Leonard married Barbara. With that marriage, he gained stepson, Tom; stepdaughter, Kelly and her husband Kevin McKeehan, and grandson, Kameron. In 2016, Kameron and his wife, Jennifer, presented Leonard with his first great-granddaughter, Maggie, for whom he had a special place in his heart.
Leonard was a lifetime member of the Elks Lodge and loved to attend dances with Lenora. He belonged to the American Legion, Wheat Growers Association, Pea and Lentil Growers and Farm Bureau. He was a member of the Reubens Grange, where he served as a master for a number of years. During those years, he participated in a number of community projects, including name signs on the county roads in the Reubens area. He also played rough-and-tumble town team basketball for a number of years.
In 2013, he had the honor of going on the Northwest "Honor Flight" to Washington, D.C. He and other veterans visited all the memorials and statues pertaining to all of the wars.
As a member of the First United Methodist Church, Leonard participated in the men's group there. He also volunteered on the church's financial committee. He served as a volunteer at the Lewiston Veterans Home and the Lewiston Civic Theatre, and was a member of the Retired Educators of North Idaho.
At the age of 69, Leonard took up the game of golf and enjoyed playing two or three times a week. He made many wonderful friends on the golf course.
He and Barbara enjoyed traveling. Together they visited Iceland, Ireland, South America and Egypt; they were in Hawaii several times, and traveled much of the United States and Canada.
Leonard is survived by his wife, Barbara; daughter, Patty (Nathan) Weeks and their children, Sam and Morgan; brother, Fred (Elzo) and their family; stepdaughter, Kelly (Kevin) McKeehan; grandson, Kameron (Jennifer) and their children, Tyler, Tanner and Maggie; and stepson, Tom (Theresa) and her children, Carson and Brock.
Leonard was preceded in death by his sister Neva and first wife, Lenora.
One of Leonard's proudest accomplishments was providing the funds for his grandsons Sam and Morgan to attend the college of their choice.
Leonard will be remembered for his kind and gentle nature, and the vast number of entertaining stories from his life experiences; he was well-loved and will be missed deeply by his family and friends.
A memorial service will be held at 2 p.m. Friday, May 6, 2022, at Malcom's Brower-Wann Funeral Home, 1711 18th St. No. 4044, Lewiston. An inurnment will follow at Normal Hill Cemetery in Lewiston. Those wishing to send memorials may do so by contributing to the Lewis Clark Animal Shelter.
Service Information
Date & Time

Friday, May 6, 2:00 PM

Location

Malcom's Brower-Wann Funeral Home
1711 18th Street
Lewiston, ID 83501

Get Directions
Offer Condolences