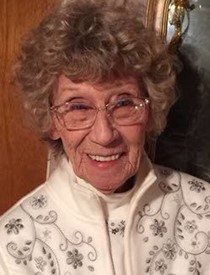 Lenora Cooney
4/24/1933 — 10/26/2018
Lenora Rosalie Cooney (née Thorson), 85, of Clarkston, passed away of an aggressive colon cancer Friday, Oct. 26, 2018, at 2 a.m. at her home in Clarkston.
Lenora was born April 24, 1933, in Glenwood, Iowa, to Leo J. Thorson and Vivian Fisher. She was raised by her beloved grandparents, Walter and Blanche Thorson, in Council Bluffs, Iowa.
From an early age, Lenora studied music and was an accomplished soprano and pianist, performing in many high school operettas at Jocelyn Memorial in Omaha, Neb., and she was the soloist at many funerals and weddings. While a junior at Thomas Jefferson High School, Lenora was offered a scholarship to the Juilliard School of Music.
Lenora married Ronald W. "Skip" Cooney; they had two children, Kathleen and Walter. In the 1950s they moved to Southern California and later divorced. Lenora raised their two children, and provided a wonderful home life for them. She always considered her children her greatest treasure, her greatest love; there was no doubt to anyone who knew Lenora of her deep and abiding, unconditional love for Kathy and Walt, and theirs for her. Her children would often say their friends "always liked being at their house with mom because she made them feel so welcome and cared for; she was such a good listener." According to her daughter, many of those friends still are her mother's dear and cherished friends today.
Lenora was employed at the Southgate Press newspaper in Southgate, Calif., and later at the East L.A. Tribune & Gazette, selling display auto advertising, often winning awards for the number of ads she sold. In 1983, Lenora went to work for her son-in-law at his company, Nutritional Data Inc., making telephone calls to health care practitioners to provide information and sell supplements. When her son-in-law sold NDI in 2008, the new owners asked her to stay on making calls, most to the same clients she had been calling for more than 30 years, and now had become friends. Lenora was still working for NDI, and making those calls two weeks prior to her passing.
In 1994, Lenora, along with her dear friend and long-time companion Jim Moore, moved to Clarkston to be nearer her daughter, and young grandson, Gavin, living in north Idaho.
Lenora was active with the Doll Club, the Festival of Trees, the Women's Connection and was a member of Holy Family Catholic Church. Lenora enjoyed shopping at thrift stores with her daughter, listening to music, praying her devotionals and bird watching in her backyard. Living in Clarkston for a quarter of a century brought Lenora many wonderful and cherished friends. Lenora liked to say, "Friends of the heart, friends for eternity."
Survivors include her daughter, Kathleen Dobbs and son-in-law Gary Dobbs of Clarkston; grandsons Gavin Dobbs of Spokane and Garrett Dobbs of Apple Valley, Calif.; great-grandchildren Zachary, Rachel and Emily Dobbs; sisters Joy Mann of Omaha, Neb., Marilee Kindt of Texas and brother Mark Twiford of Bullhead City, Ariz. Preceding her in death was her brother, James Thorson, of Council Bluffs, and son Walter Cooney.
Funeral services will be at 11:30 a.m. Wednesday, Nov. 7, (rosary prior at 11 a.m.) at Holy Family Catholic Church, 1109 Chestnut St., Clarkston.
Memorials are suggested to St. Jude Children's Research Hospital, 501 St. Jude Place, Memphis, TN 38105; or Clarkston Veterinary Clinic, 1409 Peaslee Ave., Clarkston, WA 99403.
The family wishes to thank Elite Hospice for the sweet, tender care they provided for Lenora the last two weeks of her illness, and to the many family and friends sending cards of love and encouragement, and stopping by to visit.
"Be still and know that I am God." Ps.46:10
Service Information
Date & Time

Wednesday, November 7, 11:00 AM

Location

Holy Family
1109 Chestnut Street
Clarkston, Washington 99403

Get Directions
Offer Condolences