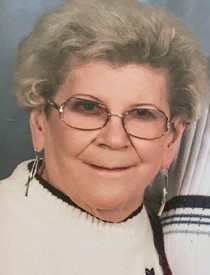 Lee Steffes
3/9/1935 — 5/9/2020
Lee Neiffer Steffes passed away Saturday, May 9, 2020, at Royal Plaza Assisted Living, in Lewiston. She was 85. Son Francis "FJ" was at her bedside when she passed away.
Lee was born March 9, 1935, in Baker, Mont., to William and Mary Neiffer. She met Francis Steffes where he was working as a baker. Lee later told a family friend that Francis had a sharp mind for business even as a young man.
Francis and Lee were married May 1, 1951, in Ekalaka, Mont., spending almost 63 years together. They lived in eastern Montana, where together, they raised five children.
The family moved to Lewiston in 1969. Francis went into a partnership, co-owning Ideal Homes in Orofino; he commuted back and forth from Lewiston to Orofino until 1972, when Lee finished beauty school and they moved to Orofino. While living in Orofino, Francis became sole owner of Ideal Homes, and Lee opened Lee's Beauty Den in Riverside. Lee was very personable to her customers, greeting them with her wide smile even after standing all day long.
Lee and Francis were active in their children's activities. Many will remember that they were present at son Kent's numerous football and basketball games. Lee and Francis gave rides to many cheerleaders to many away games, in which Clarissa (Jackson) Cleto thoroughly enjoyed the ride and chats with Francis and Lee.
Lee and Francis were also active at St. Theresa's Catholic Church, where they helped see the new church built. They spent many years enjoying the Clearwater Valley and the many friendships they made while there.
In 1991, Lee and Francis semi-retired and returned to Lewiston. They became active in Our Lady of Lourdes Catholic Church. In 2010, they moved into Royal Plaza Assisted Living. There, Francis preceded Lee in death in 2014. Lee remained at Royal Plaza until her death.
Lee is survived by Patti Steffes-Marsh, of Clarkston; son Francis "FJ" Jr. (Candi), of Boise; Kent (Tammy), of Lancaster, Calif.; eight grandchildren; and 11 great-grandchildren.
A graveside service will be set at a later date at Lewis-Clark Memorial Gardens.
Offer Condolences