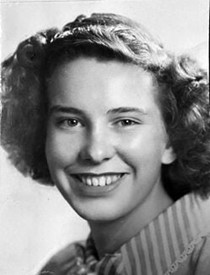 Laura Mae Rishling
2/7/1931 — 7/14/2023
Laura Mae Rishling died on Friday, July 14, 2023, of age-related causes. She was 92.
She was born Feb. 7, 1931, in Rapid City, S.D., to Florence Adelaide Crockford and Alfred Martin Paulsen, who married in 1929.
Her first memories and early childhood were spent in Hot Springs, S.D., where she attended first grade at the height of the Depression. A baby brother, Carl, was born to the family shortly before her father was badly injured in a work accident. The government offered a cash settlement enabling the family to move west, purchasing property near Deary, at Avon, sight unseen — 20 acres that was mostly pasture. Due to her father's injuries, they had to sell out, and move the family to Lewiston
Laura's parents adopted a child, Sharon, when Laura was in second grade. The family remained in Lewiston through Laura's first semester of college. When Laura ran out of money for college, she moved to Spokane to find work.
It was there Laura met her future husband, Donald J. Rishling. They were married in Lewiston on New Year's Eve, 1950, and moved to Spirit Lake, Idaho, where they owned and operated a gas station and bus line, and raised and showed Great Danes. All three of their children, Vicki, Mike and Steve, were born in Spirit Lake. Don built a shop on the lake property they owned, with 3-year-old Steve eagerly helping by hauling bricks for his dad. All three children learned to work hard under their parents' example. Their work ethic in childhood helped them to establish successful professional careers: Vicki as a professional chef, and then a journalism instructor for University of Idaho, Mike as a U.S. Marine and onward to high level U.S. government service, and Steve, as a lawyer, business owner and entrepreneur.
Laura and Don sold the business and property in Spirit Lake in 1959, and moved the family to Lewiston where both Laura and Don worked in retail (J.C. Penney and Sears). In 1966, Laura's mother died unexpectedly, shortly after they purchased a small bar/café in Juliaetta, calling it The Wander Inn (recently owned by Colter's Creek Winery). Laura's father, Alfred, moved in with Laura and Don and children in Juliaetta, and stayed with them until his death.
They sold the café in 1967, and Don began transporting mobile homes. Dan and Laura later purchased property on the edge of Juliaetta and built a manufactured home business, R & R Homes, with son, Steve, who had worked with his dad in the business from the age of 12 years. Steve's high school friend, David Middlekoop, of Kendrick, joined the family as a teenager, sharing a room with Steve in a loft above the shop. A hardworking and helpful young man, Don and Laura came to think of David Middlekoop as another son.
The Rishling family maintained a huge garden together. They shared with family and friends the fruits and vegetables that Laura and Vicki canned, and sold the remainder to build college funds for Steve's two children, Jake and Samantha. Samantha Rishling Butler used her seed money to follow her dad's example, earning a law degree from the University of Idaho. She currently practices in Pullman.
Laura and Don collaborated in the business with Steve until Don's death in 1997. After Don's death and well into her 80s, Laura continued to collaborate with Steve as the bookkeeper and office manager, helping Steve to expand the business to include a small mobile home park, R&R Court. With acres of gardens, trees, berries, apples, cherries, grapes and affordable spaces, R&R Court has been called (by a member of Idaho Manufactured Housing Association), "one of the finest mobile home courts in the Northwest."
Laura wrote poetry with several pieces published and loved to paint in oils. She was an avid reader, especially in her later years, and a legendary pinochle player.
Laura was preceded in death by her husband, Don; her parents, Adelaide and Al Paulsen; brother, Carl; half-sister, Sharon; middle son, Michael, and her sister-in-law and dearest friend, Jan Rishling. She is survived by two children, Vicki and Steve, and Steve's significant other, Cynthia Tierney; Laura's five grandchildren, and great-grandchildren also survive her: Mike's children, Zachary, Emma and Erin (husband Greg Frizell, and two great-grandchildren Gracie and Sydney Frizell), and Steve's children, Jake Rishling (significant other, Cynthia Hunt and daughter Rowan), and Samantha Butler (husband, Aaron Butler). Also surviving Laura are Jan's children, Debbie, Denise and Dana.
Malcom's Brower-Wann Funeral Home of Lewiston is in charge of arrangements. Laura's wishes were to be cremated. She asked that her ashes be spread at Spirit Lake, where rests both her husband, Don, and dear friend, Jan, and at her home near Juliaetta. A private celebration of life will be held later.
The family would like to thank Laura's many friends over the years and the caregivers at Aspen Care Center, who made Laura's last years more pleasant and comfortable.
Condolences
Abbie K Madsen
Steve and all the Rishling family. It is hard to lose a mom and a grandmother and so my condolences are with you. Laura was a great person whom I will have laughs, grins, and giggles with at some of the strangest times when her memories and quirks bubble in. Please know I am thinking of you and will miss your mom. Abbie
Saturday, July 22, 2023 6:52 PM
Offer Condolences