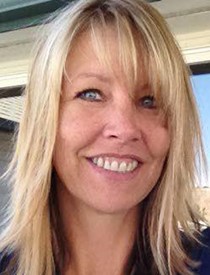 Kristina Sailer
1/11/1969 — 1/27/2019
Kristina "Kristi" Lynn Sailer, 50, gained her wings Sunday, Jan. 27, 2019, at home, surrounded by her loving family. For almost two years, Kristi fought hard with three brain surgeries and various treatments to remove a brain tumor. During that time, Kristina's strength and faith helped her and her family through it. Her contagious smile, beauty and positive outlook will be missed, but never forgotten.
Kristi was born Jan. 11, 1969, in Edmonton, Alberta, Canada. She is the daughter of C. Alan and Joan Nelson. She spent most of her school years in Weston, Ore., where she graduated from Weston McEwen High School in 1987. During that time, she found a love for horses and spent time helping at her grandparents' ranch in Wyoming, where she rode horses and ran cattle. She attended Blue Mountain Community College, where she met Steve Sailer in 1988. They were married soon after, on July 28, 1990, in Pendleton, Ore. They moved to Moses Lake, Wash., where they had their first born, Hayden, and made many great friends and memories. In 1995, Kristina and her family moved to Lewiston to call home, and soon after they had their second child, McKenzie.
Kristi always had such a kind, giving heart and showed that when she worked for the Lewiston School District as an aide for children with disabilities. She loved helping others. Later on, Kristi helped out at the family business, Advanced Auto Glass. During that time, she attended Lewis-Clark State College, where she earned her associate degree in graphic and web design.
Kristi loved spending time at home watching Hayden and McKenzie grow up. She has been such a loving and devoted wife and mother. She loved her family so very much and was present for every activity in Hayden and McKenzie's life. She traveled to many horse shows and camps with McKenzie and was her biggest supporter. Kristi had a great knowledge of horses and has taught McKenzie so much. She also attended many of Hayden's football games and motorcycle races and was always there to cheer him on. When not attending those activities, Kristi and Steve spent much time together boat camping upriver and enjoying the outdoors.
One of her favorite things to do was planting flowers (lilies were her favorite), while spending time with her animals (lots of dogs). Her love and passion for animals brought home many rescues throughout the years. She did many activities with her family and friends, such as running, boating, camping, mountain biking and horseback riding to name a few. Kristina made so many great friends whom she loved and who truly loved her. Kristi and her family have felt so blessed from all of the love and support from their friends and community.
Kristi is survived by her husband, Steve; her two children, Hayden and McKenzie (John, a soon-to-be in-law); her father, Alan Nelson; and older brother Eric. She was preceded in death by her mother, Joan Nelson, who passed on Jan. 15, 2019, just 12 days prior.
Family, friends and others whose lives Kristi has touched are invited to a celebration of life at 1 p.m. Feb. 16 at Crosspoint Alliance Church in Lewiston.
Service Information
Date & Time

Saturday, February 16, 1:00 PM

Location

CrossPoint Alliance Church
1330 Powers Avenue
Lewiston, ID 83501

Get Directions
Condolences
Butch and Teri Smith
We send our condolences! Kristi was a good person and always was full of smiles and laughter. She knew how to get a party going. Best of all she had a loving heart and always had your back. Gosh Kristi we are all Going to miss you so much! But we know you are in good hands of the lord. I know you are going to be a beautiful angel. Prayers and thoughts to the family and all of your friends. RIP
Friday, February 15, 2019 6:54 PM
Offer Condolences