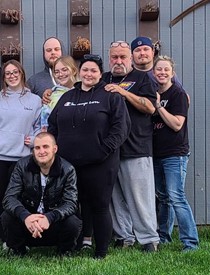 Kirk Michael Valem
2/7/1959 — 5/29/2022
Strong, loyal, dedicated father, passionate and brutally honest — these words are just a few that come to mind when people think of Kirk Michael Vallem. He was king of the outdoors, always ready for the next adventure. Whether it was laughing with friends at Elk Camp about Rick snoring, rising before the sun on Thanksgiving to hunt with friends and family, or casting out a line on the lake, Dad loved to be outdoors. He shared this passion with his beloved children and grandchildren, the reason he told many, were what he lived for. When Dad loved you, he did so fiercely and would do anything he could to help those around him.
Dad had an incredible work ethic. He did a variety of things, including owning his own moving company, working for Deatley Construction, and farming, where he worked alongside Pat for many years. Our father loved singing with his friends, "Silver Wings" being a song people knew him for and loved to hear him sing. He was a man who made impossible things happen, including hauling an 8-foot counter on a car from Deary to Port Orchard. No one could tell him that anything was impossible, because he did whatever it took to accomplish a goal. He was a man who won broomstick pool and who loved the wind in his hair as he soared on his Harley.
Dad leaves behind a legacy of the ones he loved: his children, Kristy Hicks, Michelle (Ryan) Jones, Hunter Vallem, Bill Taylor, Andrew and Jake Michel; grandchildren Hailey, Hannah, Emily, and Lucas Taylor, and Emmitt Jones; mother Nada Campeau; and sisters Kim Shattun (Rick) and Darcy (Dale) Howell. Dad loved the wonderful women in his life, they made him feel loved, kept him fed, and above all else, made him feel like the wonderful man he was.
Dad passed away Sunday, May 29, 2022, in the comfort of his home. His life and the memories created will never be lost and the wisdom never forgotten. Forever in our hearts, we will miss you, Dad.
Funeral services will be announced at a later date.
Offer Condolences