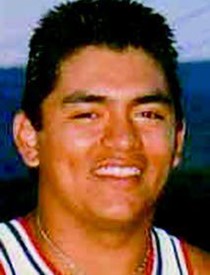 Kevin (Littlefoot) Ellenwood
6/30/1971 — 1/26/2018
Kevin "Littlefoot" Phillip Ellenwood, 46, of Lapwai, died Jan. 26, 2018, at Providence Holy Family Hospital in Spokane. He was born to Kevin "Kub" Ellenwood, Sr. and Susie Penney-Ellenwood June 30, 1971, in Lewiston.
Littlefoot attended Algona Elementary in Auburn, Wash., as well as Lapwai Elementary School and Middle School. He went to Lapwai High School and graduated in 1989. Littlefoot furthered his education at College of Southern Idaho and Big Bend Community College, where he played basketball for both.
Littlefoot was baptized Catholic in 1971, with his communion being at the age of 6. Growing up, he enjoyed many athletic activities such as soccer and basketball and was known for his outstanding ability in both soccer, basketball and baseball. As a child, he enjoyed being an altar boy. He was the ultimate competitor, but it should be noted that he could never beat his mother in various basketball games (like H.O.R.S.E). His greatest passion was basketball. In high school, he made the Lapwai varsity basketball team as a freshman (a rare feat at that time) and continued to play all four years of high school. He led Lapwai High School to three consecutive titles (1987, 1988, 1989) which were all undefeated teams and 76 consecutive wins.
Littlefoot had his first child, Jackson Phillip Ellenwood, in 1992 with Jackienna Trail (Hopkins) of Lewiston. He later went on to have two more children: Isiah Yawinma Ellenwood in 1997 and his only daughter, Aurelia Susie Ann Ellenwood, in 2000 with Stephanie Luke of Toppenish, Wash.
As an adult, he enjoyed the outdoors, especially fishing, hunting and camping. He especially loved camping and hunting with the Reubens in the Blues Mountains in Washington. His favorite fishing spots were Rapid River near Riggins and the Columbia River. He traveled and even hitchhiked to many, many basketball tournaments all over Indian Country.
He worked in fire management, and as a laborer with various jobs. He spent his later years using his passion for fishing as his means of work.
Littlefoot is survived by his wife Michelle Treetop of Usk, Wash.; parents Kevin "Kub" Ellenwood and Susie Ellenwood of Lapwai; brother Ira Ellenwood of Lewiston; sisters Rachel Ellenwood and Nikesa Aubertin both of Lapwai; sons Jackson Ellenwood of Lewiston and Isiah Ellenwood of Wapato, Wash.; daughter Aurelia Ellenwood of Wapato; granddaughter Leveyah Ellenwood of Wapato; grandson Isiah Ellenwood II of Wapato; nephews Ivan Yallup and Ira Ashley both of Mission, Ore., Preston Ellenwood of Clarkston, Terrell Ellenwood and Klayton Aubertin both of Lapwai; and neice Huntyr Aubertin of Lapwai.
He was preceded in death by maternal grandparents Ira Penney and Josephine Jose; paternal grandparents Stephen Ellenwood and Rachel Jackson Ellenwood; uncle Tony Higheagle Sr.; and aunts Beverly Webb and Patricia Webb.
A Catholic Rosary Memorial Service was held Sunday at the Pi-Nee-Waus Community Center in Lapwai. Funeral Services are at 10 a.m. today at the Pi-Nee-Waus Community Center in Lapwai. Burial is at Webb Cemetery (on Webb Ridge Road) with dinner to follow at the Pi-Nee-Waus Community Center.
Service Information
Date & Time

Monday, January 29, 10:00 AM

Location

Pi-Nee-Waus Community Center
99 Agency Rd.
Lapwai, ID 83540

Get Directions
Condolences
Williams Family
Condolences to the Ellenwood family. Our thoughts and prayers go out to your whole family. Psalms 147:3 says God, "heals the broken hearted, and binds up their wounds." May God bring you comfort and peace.
Saturday, February 10, 2018 9:29 AM
Offer Condolences