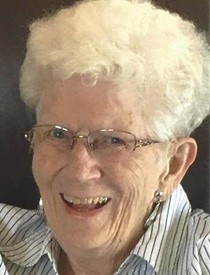 Kathleen M. Roberts
2/6/1929 — 12/25/2021
Saturday, Dec. 25, 2021, Kathleen M. Roberts went to spend Christmas with Jesus.
She was born on a cold and snowy Feb. 6, 1929, in Lewiston to parents Stanley and Beatrice (Sloan) Wright. She had an older sister, Hazel Dickson, a brother Raymond, and younger twin brothers, James and Arthur. She was raised in Clarkston. As a youngster, she worked picking fruits and vegetables in the valley's many orchards and farms. Her parents grew a big garden and had chickens, cows and other animals. It was her job to churn the milk. One summer the circus came to town. They could not afford to go, but her dad took her to see the elephants bathing and playing at the Clarkston beach (Beachview).
As a teenager, she moved to Grangeville and graduated from GHS. There she made several lifelong friendships. After graduation, she returned to Lewiston to work with her sister for a time at Pacific Bell.
She met her future husband, Richard E. Roberts "Dick," while working at Smith Frozen Foods. Kathleen and Dick were married Nov. 29, 1949, at the normal hill Presbyterian church that still is present. They moved back to Grangeville to raise a family, Ron, Kathy, Rita and Ken (the four little stinkers).
Over the years, she worked as a clerk at J.C. Penney Co.and Ray Holes, and as a bank teller. She was always proud of being instrumental in getting the senior meal and food bank programs going on the Camas Prairie and later worked at Lewiston CAP agency.
They moved back to Lewiston in 1982 to be closer to their children and eight grandchildren. They opened Tack-N-More and worked there until Dick's health failed. She was his primary caregiver for many years.
He passed away in 2007. After Dick's passing, she lived with her daughter Rita and husband Rick until her passing. She said many times how she was so thankful and blessed to have them. It was an honor for Dick and Kathleen to be chosen to serve as the 2002 Grand Marshals at Grangeville Border Days.
Kathleen was adventurous. At around 10 years old, she saved her money to take an airplane ride over Lewiston and Clarkston. In her early 80s, she zip-lined in Costa Rica. She mentioned many times how she and Dick enjoyed their trip with their fifth-wheel trailer, traveling up the East Coast and time spent in Arizona.
She also treasured many camping trips with the grandchildren.
Her hobbies included a variety of artistic endeavors, oil painting, ceramics and egg decorating. She was an accomplished dressmaker and sewed formal gowns, wedding dresses, and even cheerleader skirts.
She is a past member of the Lewiston Garden club. She enjoyed gardening and loved growing dahlias and roses. She is a member of Grangeville Eastern star. Kathleen had a strong faith in God and continued to attend the Presbyterian church until her health interfered. She believed in the importance of family and loved them unconditionally. She loved children and would not miss an opportunity to hold the babies. She would admit that "she was stubborn" and that "she should keep her mouth shut." Even so, she was a good example of a life well lived.
She is survived by brother James Wright, of Roseburg, Ore.; sons Ron Roberts (Connie), Ken Roberts (Elaine), and daughter Rita Eisele (Rick), all of Lewiston; eight grandchildren; 12 great-grandchildren; and three (plus one brewing) great-great-grandchildren. She was preceded in death by husband Richard, brothers Raymond and Art, sister Hazel Dickson and daughter Kathy Smith (Cody).
A memorial service will be at 11 a.m. Wednesday at Malcom's Brower-Wann Funeral Home, 1711 18th St., Lewiston. In lieu of flowers, please make a donation to the food bank.
Service Information
Date & Time

Wednesday, January 5, 11:00 AM

Location

Malcom's Brower-Wann Funeral Home
1711 18th Street
Lewiston, ID 83501

Get Directions
Condolences
Shawn Wright
hi everyone sorry i couldnt get there to say hello and attend the services me ands sister will be watching online though
hope your all doing ok down there
and miss all of you
Wednesday, January 5, 2022 10:52 AM
Laurie Lester
Your mom and your family will always hold fond memories of childhood. I remember a few camping trips where memories were made and good times were had. Your mom was a good friend to my mom (Dawn Lester Gortsema) and I appreciate that friendship. Please know you are all in my thoughts during this difficult time.
Sunday, January 2, 2022 6:05 PM
Gail and Chandler Serven
Dear Roberts families,
We will be watching on the online service. We love you and send our condolences.
Love,
Gail and Chandler
Saturday, January 1, 2022 9:24 AM
Offer Condolences