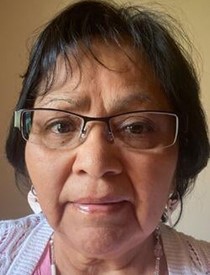 Kathleen "Kathy" Cherylita Pierre
9/2/1949 — 11/4/2022
Kathleen "Kathy" Cherylita Pierre, of Lapwai, passed away surrounded by family and friends Friday, Nov. 4, 2022. Kathy was fighting a difficult battle with pancreatic cancer and her health quickly declined over the course of the last few weeks.
Kathy was born in Shiprock, N.M., to Wallace and Mary Buck on Sept. 2, 1949. She was an enrolled member of the Navajo Nation and was of Pueblo decent. She was born from the Tachii'nii (Red running into the water) clan and understood the Navajo language well. She attended Shiprock Schools in New Mexico.
Kathy was a hard worker and worked various positions until she became employed with Schwab's Screw Machine Shop where she retired. Kathy was a member of Sacred Heart Catholic Church in Lapwai.
Kathy married the love of her life, Melvin (Cooly) Scott Pierre, in Alameda, Calif., on Sept. 3, 1974. They started their family and lived in Lapwai on the Nez Perce Reservation. They had four children, Carmalita, Travis, Cherylita and Melveena.
Kathy spent most of her free time finding yard sales, thrifting and crafting. She was a great beader, sewer and weaver, and enjoyed visiting and sharing her crafts with the Nez Perce elders at the Nez Perce Tribe Senior Citizens building. Kathy loved spending time with family and friends gathering roots, berries and tea in the mountains. Above all, she enjoyed Bigfoot and was excited to meet the cast and crew members of the show "Finding Bigfoot." Kathy was also an avid sports fan and rooted for the Lapwai Wildcats and the Washington State University Cougars.
Kathy will be missed dearly by her family and friends. She will forever be remembered by her beautiful smile and laugh, her humor and her fierce approach to life. She was most proud of her 14 grandchildren as she was their biggest supporter and always celebrated all of their accomplishments in life.
Kathy is survived by her brothers, Frank, Wallace and Herbert Buck, all of Shiprock; her children, Carmalita (Gabriel) Bohnee, of Lapwai; son Travis Pierre, of Montana; Cherylita (Joseph) Pierre, of Yelm, Wash., and Melveena Pierre, of Washington; her 14 grandchildren, Cecilia, Evelyn, Lucinda and Christopher Bohnee, Loretta and Salacia Stanley, Angelene Alexie, Dontez Perry, Travis Jr., Eneasa, Tyler, Emmalyn, Marceliena and Rayden Pierre; and one great-granddaughter on the way. She loved her children and grandchildren very much.
Kathy is preceded in death by her husband, Melvin Pierre; her parents, Wallace and Mary Buck; and her siblings Nora Gibson, Jonah Buck, Annabel Jones and Harrison Buck.
A Mass will be celebrated at 1 p.m. Thursday, Nov. 10, at Sacred Heart Catholic Church, 205 Birch Ave. E., Lapwai. Funeral services will be held at 2 p.m. Friday, Nov. 11, at Malcom's Brower-Wann Funeral Home, 1711 18th St., Lewiston, and a dinner will follow at the church's St. Kateri Hall in Lapwai. Funeral arrangements and cremation are provided by Malcom's Brower-Wann Funeral Home.
The family of Kathy wishes to extend our sincere appreciation to all medical providers who assisted with her care.
Offer Condolences