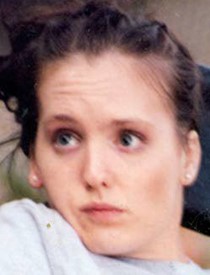 Kathleen Tweit
7/16/1979 — 6/2/2018
On the morning of Saturday, June 2, 2018, our beloved Kathleen Carol Tweit was freed from her body after bravely enduring many years of challenges and struggles.
Born on July 16, 1979, in Lewiston, to Barbara Farrington and Ronald Tweit, Katie joined two older siblings, Heather and Andrew. She spent her early years playing in the hills above Juliaetta with her siblings and cousins until her family moved to Anchorage, Alaska, in 1983. There, Katie started school, made friends and celebrated times with family. In 1987, she moved with her family once again, this time to central Oregon.
Attending elementary school in Hines and high school in Burns, Katie also spent precious time in nearby Drewsey, where her enjoyment of the outdoors and animals flourished. She participated in sports and especially loved golf. Katie was extremely social, adored and loved everywhere she went, and had a wide circle of friends that spanned multiple states, including Idaho, where she spent several summers with extended family.
After finishing high school a term early, Katie moved to Ontario, Ore., to initiate the next chapter of her life by taking college classes at Treasure Valley Community College. She was always passionate about helping others and was considering a career as a school counselor. Her service to others would take a different form, however, when her life changed after an automobile accident when she was 18 years old. Through the accident, Katie taught many of her family members and others in her community the true meaning of sacrifice, dedication, forgiveness and acceptance. Her gifts to those who knew her both before and after the accident were tremendous and eternal.
Eventually moving to Lewiston, Katie spent the rest of her life in the exceptional care of her mother and father. Her parents' dedication to her well-being was unparalleled and provided her with an uncommonly high quality of life despite the health challenges she faced. During every stage of her life, Katie brought a special kind of delight to everyone who encountered her. Even when her communication was limited, she carried a bright light that filled the room and brought forth a rare joyfulness in everyone present.
Katie was recently preceded in death by her grandparents, Freda and Everett Farrington; her uncle, Ernie Tweit; and great-uncle Mike - all of whom were certainly waiting to greet her at her moment of release from her earthly body. She is survived by her parents, Ronald Tweit and Barbara Farrington; her sister and brother in-law, Heather and Marv Ransom; her brother and sister-in-law, Andrew and Angie Tweit; her bonus brother, Ted Larreau; her nieces and nephews, Danielle Thorp, Marvin Ransom, Hannah Tweit, Nathan Tweit, Dakoda White and Dylan White; and her great-nephew, Jack White; as well as many loving aunts, uncles and cousins who each played an important role in Katie's life, in particular Anders Howerton, whose love and devotion to Katie included multiple extended stays to help care for her throughout the years.
Katie's family would like to express its heartfelt appreciation for the loving and faithful attention provided by her team of medical professionals, including Dr. David Petersen, Dr. Karen Stanek and Dr. Craig Flinders; nurse practitioners Carmen Stolte and Diana Kottkey; the dental office of Dr. Kent Simmons, and his attentive hygienist, Melissa; and the team from St. Joseph Family Hospice. Special gratitude also goes to Katie's many other medical professionals, advocates and loyal friends for the comfort, hope, kindness and pleasure they brought her that can never be repaid. Her home nurses, Juli Thompson and Marsha Burns, as well as all the excellent nursing staff through the years, will never be forgotten for their dedication and excellent care, and will always be honorary members of Katie's family.
A celebration of Katie's life will be held at 3 p.m. Saturday at River City Church, 707 Seventh Ave., Lewiston. In lieu of flowers, donations can be made in Katie's name to the Ronald McDonald House (support.rmhc.org) or the Kendrick Juliaetta 7 Ridges Education Foundation (kj7educationfoundation.org/donate).
Service Information
Date & Time

Saturday, June 30, 3:00 AM

Additional Details

Memorial Service at River City Church, 707-7th Street, Lewiston, Idaho 83501
Offer Condolences