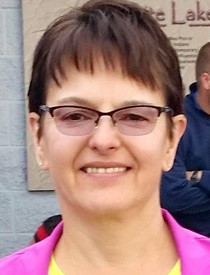 Katharine L. McPherson
8/22/1956 — 12/21/2021
Katharine Lee McPherson passed away Tuesday, Dec. 21, 2021, after a brave fight with Non-Hodgkins Lymphoma. Memorial services will be at 1 p.m. Saturday at Orchards Community Church, 822 Bryden Ave., Lewiston.
She was born Aug. 22, 1956, in Driggs, Idaho, the first of five children to Lee C. and Mikell "Arnold" Mowreader. During her early years, the family lived in numerous Idaho, Oregon, Montana and Wyoming towns, following her dad's career with the Federal Highway Department. She was almost always the "new girl" in every class, but with her natural enthusiasm for life, she always thrived.
In 1971, the family settled permanently in St. Maries. She was an extremely active high school student, participating in drill team and color guard, graduating with the class of 1974. It was in St. Maries, while working as a dispatcher for the Benewah County Sheriff's Department, where she met and married the love of her life, Doug McPherson on April 19, 1980. They continued to live in St. Maries for numerous years while she worked as the secretary for the prosecuting attorney. Kathy and Doug moved to Idaho Falls, where she started her career in the accounting world. After a brief stop in Coeur d'Alene, the couple relocated to Lewiston and that became their home. It was in Lewiston where Kathy and Doug welcomed their proudest accomplishment, daughter Rebecca Lee, on Jan. 14, 1990. In May 1990, she earned her Bachelor of Science degree in management from Lewis-Clark State College and passed the Certified Public Accountant exam shortly after. She worked at several accounting jobs in Lewiston — including positions with a construction company, the Nez Perce Tribe and Washington State University — before finally landing her dream job as the director of business services with the Lewiston School District.
In September 2005, she earned her Master of Arts degree in organizational management from Gonzaga University. She was an extremely proud and enthusiastic Zag and a huge supporter of Zag basketball.
During her lifetime, Kathy was interested in everything. She loved God and the church family she joined. She was dedicated to the Lewiston School District and helped pass the levy that led to the building of the new high school, an accomplishment of which she was very proud. She was extremely health-conscious and enjoyed biking, running and walking. She encouraged everyone she knew to become a school bus driver. But her favorite event was the birth of her grandson, Collin Henry, to her daughter and son-in-law on Sept. 29, 2015. Her smile would light up the room and that grin is on full display in every photograph of Kathy and Collin. She enjoyed traveling and recently went to Hawaii and Disney World with the family. She also loved whale watching on the Oregon coast and was always on the look-out for bald eagles.
In addition to her husband of 41 years, Kathy is survived by her daughter and son-in-law, Rebecca and Jeffrey Reznicek; grandson, Collin Reznicek; four siblings, Sheryl (Floyd) McPherson, Jim Mowreader, Bob Mowreader and Janet (Rob) Denton; two nieces; two great-nieces; and a great-nephew. Also surviving are numerous cousins.
The family suggests donations to the charity of ones' choice or any of the charities she was passionate about: The North Idaho Food Bank, backpack program or Jackson Baldwin Pay It Forward Foundation.
Service Information
Date & Time

Saturday, January 8, 1:00 PM

Location

Orchards Community Church
822 Bryden Avenue
Lewiston, Idaho 83501

Get Directions
Condolences
Wendy J Lee
I worked with Kathy over the years. And she was always good at sharing her time and imparting her knowledge to make you successful.
She was always kind and thorough. I was so looking forward to continuing working with her after she retired, while she dedicated her time serving as the Exec. Director of IASBO. I have been very saddened by her passing. She was passionate about sharing and advocating for all schools in the state of Idaho. We all feel a loss without her, and or a hole that is hard to fill. She made an impact.......
Thursday, January 20, 2022 12:03 PM
Offer Condolences