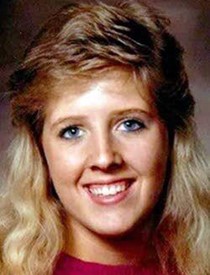 Julie A. Rudd
6/21/1968 — 1/10/2022
Julie A. Rudd, 53, passed away Monday, Jan. 10, 2022, at Providence St. Patrick Hospital in Missoula, Mont.
She was born June 21, 1968, in Aberdeen, S.D., the daughter of David F. and Connie M. (King) Schroeder.
Julie attended Jenifer Junior High school and Lewiston High School, but finished her senior year at Washington High school in Sioux Falls, S.D., where she graduated. Following graduation, she came back to Lewiston to manage the Taco John's restaurant that her father owned. While working there, she became very known in the Lewiston area for memorizing the orders of the "regulars" and having the upbeat, fun attitude that people couldn't get enough of.
After the restaurant burned down in 1996, she worked at several other food establishments until she went into business for herself doing housekeeping. She became very close to her clients, helping them in ways beyond housekeeping, whether it be running errands, meal prepping, gardening or creating floral arrangements, she would always go above and beyond the call of duty.
She was married to Kevin Hawley of Lewiston from 1992-94 and they had a daughter, Jessica. From 1996-99 she was married to James Barker of Lewiston; they also had a daughter, Jamie. From 2002-08 she was married to Gregory Rudd of Clarkston.
After her divorce from her last husband, Julie really focused on making the most out of her life with her daughters and her dogs, Zander and Bear. She was an animal rights activist and would regularly donate money to organizations such as American Society for the Prevention of Cruelty to Animals and the National Wildlife Federation. She could never watch those tear-jerking commercials without bursting into tears. She had the biggest, gushiest heart, for anyone and everything.
Julie was never afraid to have a good time. She was part of a bowling league in the early 2000s. She participated in regular game nights with her family, and nobody could beat her in a game of music trivia — she knew everything about music. She had the most impressive music collection you would ever see.
She loved tending to her yard and flower garden, or any other activity having to do with being outside: barbeques and floating the river were part of her regular schedule in the summertime back in the day. Most of all, she could never get enough of spending time with her grandchildren. Being a grandmother brought a glowing joy to her life that nothing else could compare to.
She is predeceased by her father, Dave and beloved grandmother, Marjorie as well as Grandparents Donald and Florence King. She is survived by her mother, Connie Schroeder; children Jessica (Brent) Weddle and Jamie Barker; sister Lisa (Phil) Jankowski; nephew Ian Schroeder; beloved grandchildren Mikayla and Colt Weddle; and lifelong friends from high school and Taco John's, Kitty Hayes, Kelly Schadt, Mandy Young and Chris Grinstead.
 A memorial service will be held Saturday, January 29, 2022 at 11:00 am at Malcom's Brower-Wann Funeral Home - 1711 18th Street, Lewiston, Idaho 83501.
Service Information
Date & Time

Saturday, January 29, 11:00 AM

Location

Malcom's Brower-Wann Funeral Home
1711 18th Street
Lewiston, ID 83501

Get Directions

Additional Details

A memorial service will be Saturday January 29, 2022 at 11:00 am at Malcom's Brower-Wann Funeral Home
Condolences
Brian Schroeder
I am so sorry to hear about Julie passing
Friday, January 28, 2022 9:48 PM
Laurie & Mark Goertz
I was so saddened to hear of Julie's passing. My heart breaks for all of you. You will continue to be in our thoughts and prayers.
Love, Laurie
Thursday, January 20, 2022 6:26 AM
Cindy and Ron King
We are sorry for the loss of Julie We will keep you in our thoughts and prayers
Tuesday, January 18, 2022 1:11 PM
Offer Condolences