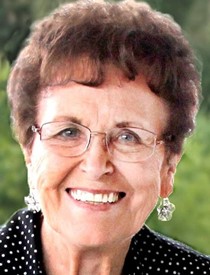 Julia Mae Blewett
11/3/1930 — 10/29/2021
Julia Mae Blewett went to heaven to see her daughter, Gina. She passed away Friday, Oct. 29, 2021, of natural causes. Mae's life will be celebrated with a graveside memorial service at 2 p.m. on her birthday, Nov. 3, at Lewis-Clark Memorial Gardens, Lewiston, with dinner to follow.
Mae was born Nov. 3, 1930, to Bessie (Bonnalie) and Bert Ankney in Palouse.
Mae attended Lapwai school, graduating in 1948. Mae met Jack Blewett her senior year and they were married in August 1948. They recently celebrated their 73rd anniversary.
After Mae and Jack were married, they lived on Webb Road in a rental for the first two years. While there, their daughter Lynda was born. Later, they moved to the ranch at Sweetwater, where four more daughters completed their family.
Mae was a talented and gifted artist, crafter, decorator and cook. She was a homebody and loved her home. She had friends who moved from home to home each month to do house cleaning and eat lunch together.
A "Happy Helpers" club was formed by Mae and her area friends, where they made clothes for an orphanage and enjoyed tea parties.
The daughters reminisced about Mom's hobbies before she went to work outside of the home. She made a lot of our clothes with her old treadle sewing machine.
Mom liked to keep her hair styled and enjoyed jewelry. She also liked to read romance novels, true stories, Westerns and mysteries. She enjoyed the radio and listening to lots of records, especially Tennessee Ernie Ford and Charlie Pride, whom she saw in Branson, Mo. Watching the Gonzaga Bulldogs was also an enjoyed pastime.
Flowers were another favorite hobby. Annuals, hanging baskets, outdoor decor, amusing signs, and landscaping with flowering perennials; but it was always up to Dad to mow the yard.
Dad and Mom also really enjoyed gardening and eating the fruits of their labors.
Mom enjoyed watching TV variety shows like Lawrence Welk, Dean Martin, Dick Van Dyke and game shows. Mom was always quick with the answers.
Our dad could always depend on good, hot meals. She continued with this even when she went to work full time. This included baking, homemade jams and canned fruit. Mom made freezer meals for Dad even before they were popular.
Wedding cakes became another hobby — she was a perfectionist. She made all of her daughters' wedding cakes and many of their wedding gowns.
Mom spent many hours in the kitchen at Orchards Community Church as well as making floral arrangements for the changing seasons, tea parties and fashion shows.
If she heard of a death, within two hours she could have fried chicken, potato salad, her favorite chocolate cake and banana bread ready to be delivered to the family.
Our mother worked diligently, contributing to our family bazaar for 17 years. She enjoyed this time working with us and visiting with shoppers.
Mom's kindness, soft-spoken voice, and quick sense of humor will be greatly missed.
She is survived by her husband Jack (93); her youngest brother Rex Ankney; brother-in-law Tom (Linda) Blewett; her daughters Lynda (Phil) Taylor-Derby, of Rainier, Ore., Leanne (Randy) Keatts, of Clarkston, Joan (Steve) Boyle, Kristin (Dave) Gibson, all of Lewiston; grandchildren Chad (Stephanie), Scott (Kim), Jason (Sonia) Taylor, of Rainier, Ore., Larry (Monica) Keatts, of Richland, Laynie Moser, of Lewiston, Lauren Bradley, of Orofino, Alexa Ockwell, of Lewiston, Levi (Tyler Vail) Gibson, of Clarkston, Jake (Ashley) Boyle, Clay (Sammi Jo) Boyle, of Lewiston; stepgrandchildren Joshua (Thuong), Mona Derby, of Rainier, Ore; as well as 16 great-grandchildren, seven great-great-grandchildren with three more on the way.
She was preceded in death by her parents, sister Merle Ulber, brothers Dale, Bill, Bob, Doug, Mike Ankney; her daughter Gina Blewett Quesenberry, son-in-law Don Taylor, great-grandson KC Taylor, stepgreat-grandson Fred Fevlov and his daughter Mila.
In lieu of flowers, a memorial contribution can be made to the Gina Quesenberry Foundation, PO Box 506, Lewiston, ID 83501.
Service Information
Date & Time

Wednesday, November 3, 2:00 PM

Location

Lewis-Clark Memorial Gardens
3521 7th Street
Lewiston, Idaho 83501

Get Directions
Offer Condolences